I thought of the people whose footsteps walked before me on the historic trail Mono Pass Trail. Native Americans have been using this trail to travel from the Mono Basin toward Tuolumne Meadows and beyond for eons. Miners with dreams of hitting a big gold strike walked on it. Mules carrying loads of whisky, and apparently sardines, to those miners walked on this trail. In addition to all of that, I enjoyed tremendous views, a good workout and a little fishing on this week's adventure.

Where: Yosemite National Park, Inyo National Forest
Distance: 10.29 Miles
Difficulty: Moderate to Strenuous
Elevation Range: 9,537′ – 10,559′
Elevation Gain: 1,854′
Date: August 18, 2021
CALTOPO: Sardine Lakes Hike
Dog Hike? No

A little weather was moving through, clearing out the smoke for 1 day and providing a breeze for the hike out of Bloody Canyon. That made it perfect weather in my book for this hike. I left the house early and headed into Yosemite National Park via the El Portal Entrance Gate. I had already printed out my Day Pass and since the gate wasn't staffed this early, picked up one of the temporary white slips at the Entrance Station to fill out and place on my dashboard. If you aren't aware, Yosemite National Park has implemented a Temporary Day Use Reservation system. Day Use Entry Passes are validated at the park entrance gate on the reservation date and can be used for 3 days of entry. There are some exceptions but reservations are required to enter Yosemite for day and overnight trips and you get them through Recreation.gov. If you have questions about those exceptions or changes, you can also check out Yosemite's How will COVID-19 affect my visit?
Once through the gate, I headed up to and east on Tioga Road, then parked my car at the Mono Pass Trailhead, about 5.6 miles east of the Tuolumne Meadows Campground and 1.4 miles south of Tioga Pass. It was 41 degrees when I put my coffee mug, snacks, cold drinks for after the hike and anything else that a bear might find irresistible in the bear box.

When I talk about this trail I use the name of Yosemite's Mono Pass Trail because there is also a place called Mono Pass above Rock Creek and Little Lakes Valley, about 40 miles to the south of Yosemite. Back to Yosemite's Mono Pass Trail, it was a primary prehistoric lanes of travel across the Sierra Nevada and is still used today. From Linda W. Green's Yosemite: the Park and its Resources:
It led west from the Mono Lake area, passed up present Bloody Canyon, over Mono Pass, down the Dana Fork of the Tuolumne River, through Tuolumne Meadows to Cathedral Pass, and past Tenaya Lake. It left the present Tioga Road corridor near Porcupine Flat, headed west-southwest to Yosemite Creek, then south to Bluejay Creek, which it followed west to Ribbon and Big meadows. There, at a major Indian settlement, it connected with routes to Big Oak Flat, the Merced River, and other points in the San Joaquin Valley. Current archeological and historical data indicates that this is one of the oldest continuously used trails in the Sierra Nevada and possibly the western United States, having been used first probably by game animals and then successively by Indians, explorers, sheepherders, miners, poachers, the U. S. Army, early High Sierra tourists, and finally by trans-Sierra auto travelers. As mentioned previously, Walker probably followed portions of this route, as did Lieutenant Moore in his pursuit of the fleeing band of Yosemites in 1852. Later, around 1857, Tom McGee, a businessman of Big Oak Flat, further blazed the trail, joining it to the Big Oak Flat Trail to facilitate passage by miners and packers to the mining towns east of the Sierra.
I continued on the trail dotted with wildflowers that were still lush from recent rains.
I crossed the Dana Fork on rocks. This time of the year, this creek is small enough to do this but early in the season, it can flow good enough to require a handy log upstream or water shoes.
A couple of old miner's cabins still exist along the trail. This is the first one, about a mile from the trailhead.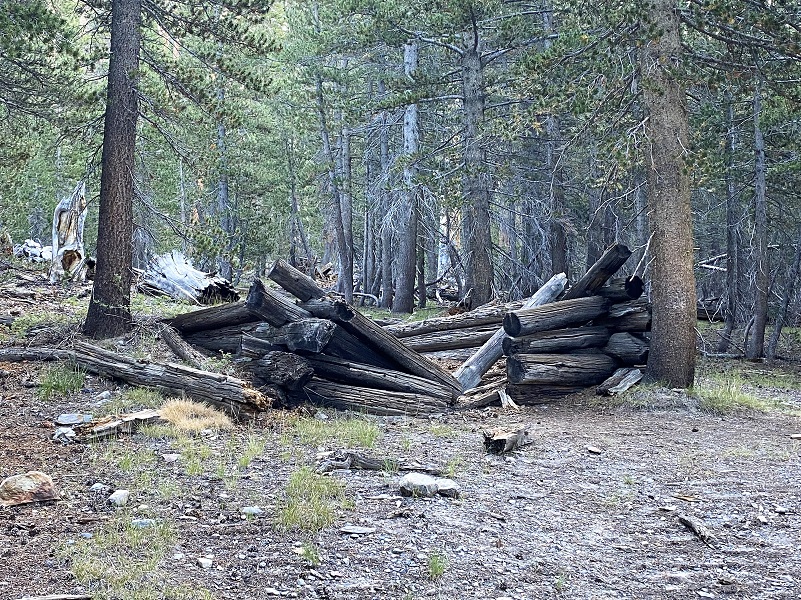 These 2 cabins, along with a third, show up on historic topographic maps. The purple arrows show the two cabins along my route on this hike. I have searched for remains of that third cabin but haven't been able to find it . . . yet.
This trail, which used to be a road, was used for a while for the mining operations in this area. The Golden Crown Quartz Mine, Ella Bloss Quartz Mine and Ella Bloss No. 2 Quartz Mine are also known as the Mono Pass Prospect. The primary commodity they were looking for was gold but they also mined for silver and copper. It was an underground mine, discovered in 1879 by Orlando Fuller. They became properties of the Great Sierra Company, one of several predecessors of the mines at Dana City and Bennettville. The mines were abandoned in the 1890's but the old road and a few structures remain. 
The trail led me on.
I don't remember seeing so many mushrooms along the trail. They were light brown and some were mature, releasing their spores. But some were compact, nestled against rocks or grass.  I know nothing about mushrooms and don't have any idea if these are poisonous so please don't consume them based on my pictures.
At about the 2 mile mark, the trail split, the right fork going to Spillway Lake. I took the left fort toward Mono and Parker Passes.
I continued on up the trail.
The trail started skirting the edge of the rocks of Mount Gibbs and I could hear Pika and squirrels talking. Least Chipmunk, Golden Mantled Squirrels and Pika all live in these rocky areas and the blend in very well.
After about 3 miles on my hike, I came to the second old miner's cabin along the trail.
I don't know if the cabin had a window on its western side but I would have put one there and this would have been its view.
The trail soon split, the right fork going to Parker Pass and I continued on to Mono Pass.
I looked over to where Parker Pass Trail and where a trail leads to 5 old cabins associated with the Golden Crown Mine. I didn't visit the site on my hike but have been there before. It just amazes me that these tough miner's lived and worked at this elevation.
I did a bit of wandering above the trail, checking out old diggings from the Golden Crown Mine, then reached Mono Pass (10,599′ elevation) and Summit Lake. This is also the Yosemite Park boundary with Inyo National Forest.
The trail followed along Summit Lake (10,621′ elevation) where fireweed bloomed in spots.
The trail remained fairly level and smoke free. I knew that the trail was going to dive off soon but I was hoping that the smoke would have give me views into Mono Lake. There was a smoke bank along Hwy 395 that wasn't going to let that happen on this day. Still, it was mighty pretty.
And that trail did dive down into Bloody Canyon. I bypassed Upper Sardine Lake (10,384′ elevation), apparently forgetting to take any pictures of it, and headed directly to Lower Sardine Lake (9,902′ elevation).
From Linda W. Green's Yosemite: the Park and its Resources:
The canyon is on the route of an historic Indian trail across the Sierra, a route that was readily adopted by the first white explorers and travelers.
"After crossing the pass (Mono Pass), the way leads down Bloody Canyon–a terrible trail. You would all pronounce it utterly inaccessible to horses, yet pack trains come down, but the bones of several horses or mules and the stench of another told that all had not passed safely . . . It was a bold man who first took a horse up there. The horse were so cutup by sharp rocks that they named it 'Bloody Canyon,' and it was held the name–and it is appropriate–part of the way the rocks in the trail are literally sprinkled with blood from the animals." (Brewer, Up and Downm 415-16.) The canyon is east of the park boundary in Inyo National Forest, but it was within the park from 1890-1905.
An the spring of 1860, Judge Michael M. Magee, Justice of the Peace at Big Oak Flat, along with Allen S. Crocker and two other men, went on an exploring trip to the headwaters of the Tuolumne River. North of Tenaya Lake they met a party of men with a train of wornout and nearly starved pack mules attempting to cross the canyons north of the Tuolumne to get to the Monoville diggings. Magee led the train to Mono Pass, at the head of Blood Canyon, and sent it on its way.
Peter Browning shared information on how Bloody Canyon received its name in his book Yosemite Place Names:
"In descending a precipitous slope to a seemingly bottomless lake, situated one mile below the head of the canyon proper, one of the pack mules, heavily laden with kegs of whisky, fell and rolled with cases of sardines, no trace of either mules or packs ever being seen afterward–and to this day that beautiful sheet of water is known as Sardine Lake." Homer Mining Index, January 5, 1884.
Sardine Lake (the lower one) was first named on Lt. McClure's map of 1896. That lake was called "Red Lake" by John Muir in 1869 (Overland Monthly, Sept. 1874.) The lake is about a mile outside the park's eastern boundary but was within the park from 1890 to 1905.
I spent some time down at Lower Sardine Lake with my fishing pole and was very successful. Pika came out periodically or called but didn't venture too close. I don't understand why they didn't pose for me but they just didn't. After lunch, it was time to head back up the trail.  See it on the left side of the picture?
I headed back down the same way that I had come up.
And one of the locals said howdy.
This hike is moderate until you head down Bloody Canyon where the loose rocks and steepness are tougher to negotiate. You can stop at Upper Sardine or Summit Lakes without heading into Bloody Canyon and still have a wonderful and beautiful hike. Or perhaps head to the old cabins or the Golden Crown Mine? So many destinations in this area!
Dog Hike?

No, dogs not allowed in Yosemite National Park Wilderness. If you wanted to do this hike from the bottom, the trail would be in the  but they are allowed in the Inyo National Forest where they are allowed. But I would not recommend this trail for dogs because the rocks are extra harp and I believe would tear their paws up, just like the mules from which Bloody Canyon derived its name.
Doarama:
What is a Doarama?  It is a video playback of the GPS track overlaid on a 3 dimensional interactive map. If you "grab" the map, you can tilt it or spin it and look at it from different viewing angles. With the rabbit and turtle buttons, you can also speed it up, slow it down or pause it.
Sardine Lakes Doarama

Map and Profile:
CALTOPO has some free options for mapping and here is a link to my hike this week, which you can view or download: CALTOPO: Sardine Lakes Hike
Sources:
Yosemite National Park Upper Sardine Lake and Mono Lake
Browning, Peter, Yosemite Place Names, Great West Books, Lafayette California, 1988
Golden Crown Mine Yosemite National Park
Golden Crown Mine historic Site Yosemite National Park
John Muir: A Passion for Nature NPS
Yosemite: the Park and its Resources (1987) by Linda W. Greene
Ghost Mines of Yosemite (1958) by Douglass Hubbard
Prior Blogs in the Area:
Hiking Up Yosemite's Mono Pass Trail Past Spillway Lake June 17, 2021
Adventures with Candace: Hiking to Helen and Spillway Lakes June 23, 2020
Hiking up Yosemite's Mono Pass Trail to Helen Lake July 10, 2019
Hiking to Spillway and Helen Lakes July 6, 2018
Hiking up to Spillway and Helen Lakes August 1, 2017
Hiking up to Spillway and Helen Lakes June 29, 2016
Hiking on the Mono Trail to Spillway and Helen Lakes June 8 2014
Hiking and Fishing High Lakes along the Mono Pass Trail August 14, 2013
Hiking with the Yosemite Toad to Helen & Spillway Lakes June 7, 2013