Spring has definitely sprung in the Merced River Canyon and the poppy show has begun! Hike it, bike it, drive it or find a good spot to sit in a chair and watch it. There are so many ways to view these beautiful, golden poppies. 

Where: Bureau of Land Management (BLM), Merced River Recreation Management Area
Distance: 10.76 miles round trip but you can go shorter or longer
Difficulty: Easy
Elevation Range: 1,024′ – 1,215′
Date: March 18, 2021
CALTOPO: Hiking From Briceburg Downstream Along the Merced River Trail
Dog Hike? Yes

To reach Briceburg and the Merced River Trail, we drove separate cars up Hwy 140 north about 15 miles from Mariposa to the Briceburg Visitor Center. You can't miss the beautiful old stone building that William M. Brice, who Briceburg was named after, built in 1926 as Highway 140 into Yosemite was being built. The BLM acquired the property in the 1980's and refurbished the building to its near-original condition to be used as a visitor center. The Visitor Center is currently closed and expected to reopen the first weekend of May. For more history about William Brice, check out my prior Briceburg Blog. After driving by the Visitor Center, we parked in the parking area along the Merced River where the restroom is located.

It was 44 degrees with a hint of some sprinkles when we started our hike, walking across the suspension bridge, then we stayed to the left and walked on the road along the Wild and Scenic Merced River. The headwaters of the Merced River originate in the high country of Yosemite National Park and ultimately flow into McClure Reservoir, but not before winding their way through the canyon where we hiked. In 1987, the Federal Government designated 122 miles of the Merced River as a "Wild and Scenic" river. The trail also follows the grade of the old Yosemite Valley Railroad and if you look closely, you can saw the remains of old bridges, dams, flumes, rock walls, ditches and what was left of old mining structures. If you interested in reading more about that railroad, check out my prior blog.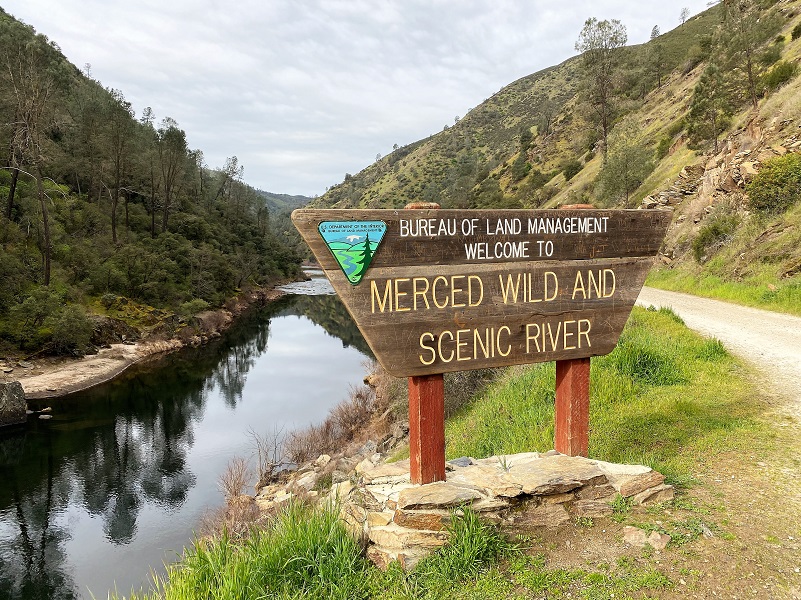 If you aren't into walking this trail, you can drive a good chunk of it, about 4.5 miles down to the Railroad Flat Campground, pulling out in the many turnouts to take a closer look at something that catches your eye. It wasn't long before we spotted a few redbuds in bloom.
We noticed plenty of poppies along the road but they were mostly closed up. It was a cloudy day and I was a little afraid that those beautiful poppies would not open up at all while we were here.
The pavement ended and we continued on the dirt road.
We spotted a few Sierra New, returning from their date night meeting lady newts down at the river. A while back, I had a wonderful opportunity to talk with a lady studying Sierra Newts on the McKenzie Preserve. She tags these little guys with microchips and returns to study them. She said that she thinks that they can live as long as 30 years. Although they swim well while in the water, they move slowly on land. Sadly, we also saw a few newts that had been run over. Please watch out for these cute little guys because they don't move very fast and can't get out of our way. Let's do our best so they can live to a ripe old age.
How exciting! The skies were clearing up and the poppies were opening up.
After walking by the Railroad Flat Campground and at Hall's Gulch, there is a steel bridge with a walk around to keep vehicles out. Well, we spotted a pair of geese hanging around that area so we stopped and watched them for a while, and took pictures.
And as we looked far ahead of us, we could see splashes orange on the hills. We decided that we needed to walk down to those splashes and check them out.
We wandered down, took a snack break and turned around, admiring the open poppies on the way back.
Other wildflowers were also putting on a show such as this bright yellow mustard.
Baby Blue Eyes.
And the bugs were very busy.
On prior hikes, I usually turn around at the point when I reach 2 1/2 miles or so down the trail past the last gate but I have heard that you can go to Bagby. On the stretch where I have hiked, the trail portion that you walk gets a bit overgrown as you head farther downstream, making good areas for rattlesnakes to be unseen. I just can't give you intel on the trail all the way down to Bagby but have included a link to a TrailLink write up on the trail.
The campgrounds along the Merced River have reopened and we noticed signs at the campgrounds with Special Guidelines for Merced River Recreation Area Campgrounds During COVID-19:
In order to comply with the Mariposa County Interim Guidelines for Campgrounds, the following procedures are put in place:
Be prepared by bringing your own personal hygiene supplies, including soap, toilet paper, and hand sanitizer.
Only one household per camp site (Maximum 8 persons).
Only registered campers in developed campgrounds. McCabe Beach is for registered campers only during COVID-19 restrictions. (First come first served, on-site registration/payment only—no advanced registration).
No group campsites. Site #13 will only allow 8 persons.
Stay home if you are sick.
I recommend that you contact BLM for the most up to date information.
There are three developed BLM campgrounds along the Merced River between Briceburg and Bagby. The campgrounds are accessed by crossing the suspension bridge just past the Briceburg Visitor Center and heading down river along the unpaved Briceburg River Road (old Yosemite Valley Railroad Grade).
McCabe Flat – 2.3 miles downstream from Briceburg
Willow Placer – 3.6 miles downstream from Briceburg
Railroad Flat – 4.5 miles downstream from Briceburg
North Fork Primitive Camp – 2.5 miles downstream from Railroad Flat Campground
Cable Rock Day Use Site – 1.4 miles downstream from Briceburg
Briceburg Day Use/Put-in – Hwy 140 at Merced River, 12 miles east of Mariposa
Dog Hike?  Yes

I did not bring Sally or Fannie on this hike but Sally has hiked along the Merced River before. There are some places where you can get your dog down to the river for a drink but be very careful because that river can run fast and cold. One slip into the river could be disastrous and deadly. Also when the weather warms up, the rattlesnakes are out and about. And those rattlesnakes are out now! Dog rules in this area include the following:
Dogs must be on leash at all times.
No dogs allowed at McCabe Flat swimming beach.
Doarama:
What is a Doarama?  It is a video playback of the GPS track overlaid on a 3 dimensional interactive map. If you "grab" the map, you can tilt it or spin it and look at it from different viewing angles. With the rabbit and turtle buttons, you can also speed it up, slow it down or pause it.
Hiking From Briceburg Downriver On The Merced River Trail Doarama
Maps and Profile:
CALTOPO has some free options for mapping and here is a link to my hike this week:  CALTOPO: Hiking From Briceburg Downriver On The Merced River Trail
Sources:
Johnston, Hank, Railroads of Yosemite Valley (Yosemite National Park, Yosemite Association, 1995)
Tracing the Yosemite Valley Railroad
San Francisco and San Joaquin Valley Railroad Wikipedia
1924 Yosemite National Park Brochure
Yosemite: the Park and its Resources (1987) by Linda W. Greene
Bridge Reports Mariposa county
Mariposa Gazette California Digital Newspaper Collection
Mariposa Genealogy & Historical Research Home Page
Mariposa Museum & History Center Gallery
HOTEL AT EL PORTAL DESTROYED BY FIRE Memorable Places
Yosemite Railroad Turntable and Caboose Restoration Yosemite Conservancy
El Portal Administrative Site Historic Resource Survey with Assessments and Recommendations Yosemite National Park
Caifornia State Route 140 and El Portal Road GRIBBLENATION
Merced River Recreation Management Area
Prior Blogs in This Area:
Hiking From Briceburg Up the Historic Yosemite Valley Railroad Bed on the Merced River Trail December 15, 2020
Hiking up Briceburg's Burma Road January 30, 2020
Hiking up the Burma Road with Wildflowery Views April 15, 2019
Discovering Wildflowers Along the Merced River Trail Near Briceburg April 3, 2019
Discovering Wildflowers Along The Moss Creek Trail April 3, 2019
Hiking Along the Merced Wild and Scenic River with Mom February 21, 2016