It is a little early for flowers but it won't be long before poppies and other wildflowers will be putting on a show here. I wasn't hiking for flowers on this day though. I was hiking to get a good workout in. I loaded up my pack for a conditioning hike.
Where: Bureau of Land Management (BLM), Merced River Recreation Management Area
Distance: About 7 miles roundtrip but you can go shorter or longer
Difficulty: Moderate to Strenuous
Elevation Range: 1,138′ – 2,542′
Date: January 30, 2020
Maps: Buckingham Mountain Topographic Quad
Dog Hike? Maybe
To reach Briceburg and the Merced River Trail, I drove up Hwy 140 north about 15 miles from Mariposa to the Briceburg Visitor Center at the Merced Wild & Scenic River. You can't miss the beautiful old stone building that William M. Brice,  who Briceburg was named after, built in 1926 as Highway 140 into Yosemite was being built. Originally it was a general store for locals and tourist. Gasoline pumps were later added, and it also provided lodging and had a soda fountain over the years. The BLM acquired the property in the 1980's and refurbished the building to its near-original condition to be used as a visitor center. The Visitor Center is currently closed and expected to reopen the first weekend of May. For more history about William Brice, check out my prior Briceburg Blog.
After driving by the Visitor Center, I parked in the parking area along the Merced River where the restroom is located. I hope you don't get too excited to see the poppies in the picture that was taken from a previous spring visit but I forgot to take a picture on this visit.
There is also a small parking area after the bridge and to the right where a trail starts at the end of this small parking area for a different hike. That trail's former life was as a railroad to take passengers to and from El Portal near Yosemite.
There isn't much left of Briceburg today. Over the years, buildings were lost to fires and if you were wondering what it looked like in its heyday, I located the below photograph of the Briceburg area around 1942 from the Mariposa Museum & History Center Gallery.
It was 37 degrees when I started my hike, walking over the suspension bridge, a 160-foot suspension bridge built by the US Forest Service in 1937 and constructed by 30 Civilian Conservation Corps enrollees. They don't recommend that trailers over 18 feet and large RV's cross the suspension bridge. Daily parking is free, but a camping fee of $10 per night applies at any of the three campgrounds. Restrooms are available at the campgrounds.
The lifting fog threw a misty blanket over the Merced River. The first picture is looking down river and the second picture is looking up river.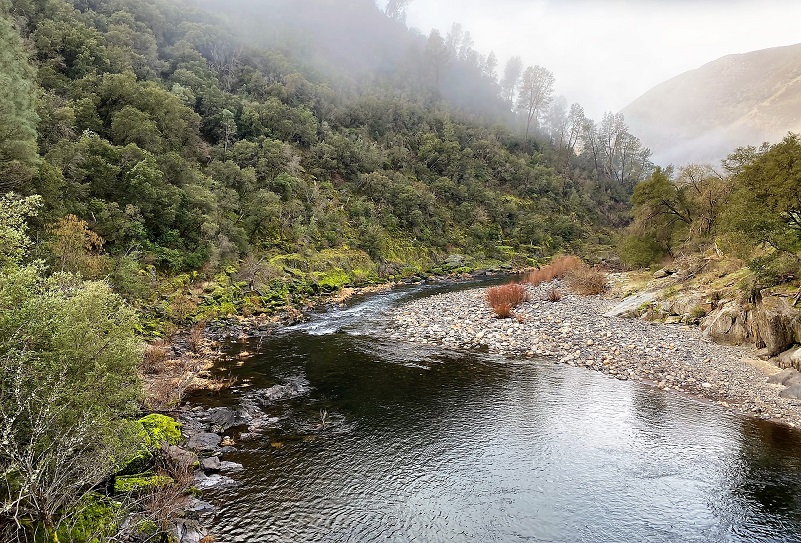 The Burma Road is also known as the Briceburg or Bull Creek Road and immediately starts to climb along a steep road that is basically one lane wide with switchbacks that take you up the hill. It is also called the Burma Grade. As you climb, you have incredible views of the Merced River, Briceburg, the suspension bridge, and Hwy 140. Besides hikers, high clearance 4 wheelers and mountain bikers also use this road. The road can have washouts and slides, closing it some years but when it is open, I understand you can get to Greeley Hill or Buck Meadows from Briceburg.
Time to start climbing up the Burma Grade. There was plenty of very fresh bear sign, much of it made that night or this morning. An occasional coyote scat was also on the road. The ground was a little too dry for me to make out tracks. Many other animals call this area home such as mountain lions, bobcats and fox. Oh, and rattlesnakes love this area but it was a bit chilly this morning for them. As I climbed, there were so many beautiful views looking down at the Merced River and beyond.
The bright red color of the toyon berries really stood out.
I reached the top of the grade and had been debating what I was going to do at this spot. If I took off to the left on the Good Gulch dirt road, I would climb a couple more hilly bumps and if I stayed on the road, it was a fairly flat journey.
I spotted some color just up the road and what a surprise! A small clump of paintbrush was blooming at the end of January. I took that as a sign and wondered if the bush poppies up the road a little bit would be starting to bloom. So I stayed on the road, continuing on up it.
I came to a pretty view spot with toyon and rolling hills weaving into each other. Of course I stopped to admire the view and take a picture. I then looked down and saw where 3 cats had also stopped here and admired the view. The scat wasn't super fresh but it was obviously a popular area.
I looked up the road, wondering if I really needed to continue farther. It was still early in the morning, an active time for cats and I was by myself.
So I decided to turn around and head back down. I had gotten in a good workout and that was what I had hoped to achieve.
This hike is always a good workout but I prefer to do it on a cooler day. I saw scat from coyote, bear, mountain lion and other critters along the way. The road is rutted and can have slides and rocks on it. To me, it is a high clearance 4WD road and that is what they recommend. I cannot share good intel on driving or biking this road and if this something you are interested in, there are blogs and websites that include detailed information related to this. I bet that once the Visitor Center is open, they can also help on that.
Dog Hike?
I did not bring Sally on this hike but she has hiked along the Merced River before the rattlesnakes had woken up. There isn't much water along the Burma Road and you would need to pack dog water. Dog rules in this area include the following:
Dogs must be on leash at all times.
No dogs allowed at McCabe Flat swimming beach.
Doarama:
What is a Doarama?  It is a video playback of the GPS track overlaid on a 3 dimensional interactive map. If you "grab" the map, you can tilt it or spin it and look at it from different viewing angles. With the rabbit and turtle buttons, you can also speed it up, slow it down or pause it.
Maps and Profile:
Sources:
Mariposa Gazette California Digital Newspaper Collection
Mariposa Genealogy & Historical Research Home Page
Mariposa Museum & History Center Gallery
Merced River Recreation Management Area
Prior Blogs in This Area:
Hiking up the Burma Road with Wildflowery Views April 15, 2019
Discovering Wildflowers Along the Merced River Trail Near Briceburg April 3, 2019
Discovering Wildflowers Along The Moss Creek Trail April 3, 2019
Hiking Along the Merced Wild and Scenic River with Mom February 21, 2016