It had been a while since I had hiked to Vogelsang High Sierra Camp but I had fond memories of this beautiful camp nestled against high peaks. Closed for a few years, I needed to pay it another visit.
Where: Yosemite National Park
Distance: 15.8 Miles (About 14.2 Miles from the Tuolumne Meadows Campground Trailhead)
Difficulty: Moderate to Strenuous
Elevation Range: 8,588′ – 10,128′
Elevation Gain: 1,538′
Date: September 15, 2021
CALTOPO: Vogelsang HSC Hike
Dog Hike? No
I just returned from camping at Tuolumne Meadows, the final week of the season that it was open. It was a good base camp to take a few hikes from the comfort of my campsite without driving through the many road constructions each day. Tuolumne Meadows Campground is located along Tioga Road, about 8 miles east of the Tioga Pass Entrance Station to Yosemite National Park. Reservations are required and whenever they reopen can be made here.
Many years ago, I hiked the High Sierra Camp Loop but it has been closed for several years. I'm not sure if it will reopen next summer but the timeframe for the lottery for these choice spots is coming up soon (more information at the end of the blog).
My hike started at the Trailhead accessed from the east side of the Tuolumne Meadows Campground. When the campground is closed, you can walk through it to reach the trailhead, following the signs but I have also included a map at the end of the blog. You can also access the Trail  from the Dog Lake Parking Area. To get to the Dog Lake Parking Area, turn off to the Tuolumne Meadows Lodge, which is just east of Tuolumne Meadows itself. Once on the lodge road, pull in at the Dog Lake parking lot (there's another lot for Dog Lake on Tioga Road itself, but that's not the one you're after now). From here, hike a few hundred meters farther up the road to the main parking lot for the Tuolumne Meadows Lodge. You'll find the trailhead near the southwest corner of this parking lot. If that isn't confusing enough, they are doing construction in this area so you may need to flexible where you might park.
I got an early start heading up the trail.
I followed the signs to Vogelsang HSC, up the John Muir Trail, then up the Rafferty Creek Trail. BTW, the Rafferty name comes from Captain Ogden Rafferty (1860-1922), US Army Medical Corps, by Lt. McClure in 1895 when Rafferty accompanied him on patrol of the park. Rafferty Peak (11,120′) is along the western side of the trail.
For about a mile and a half, the trail climbed, the trail constructed of cobbles and granite blocks.
The trail started leveling out its climb, not level but not so much of the up part.
The trail took me through golden meadows.
Then the trail led me through trees.
Then larger meadows.
The trail split, the right fork heading toward Booth Lake and down to Merced Lake. I took the left fork, following the signs to the Vogelsang HSC.
Sunlight showed off the yellow fall colors as I climbed up the trail.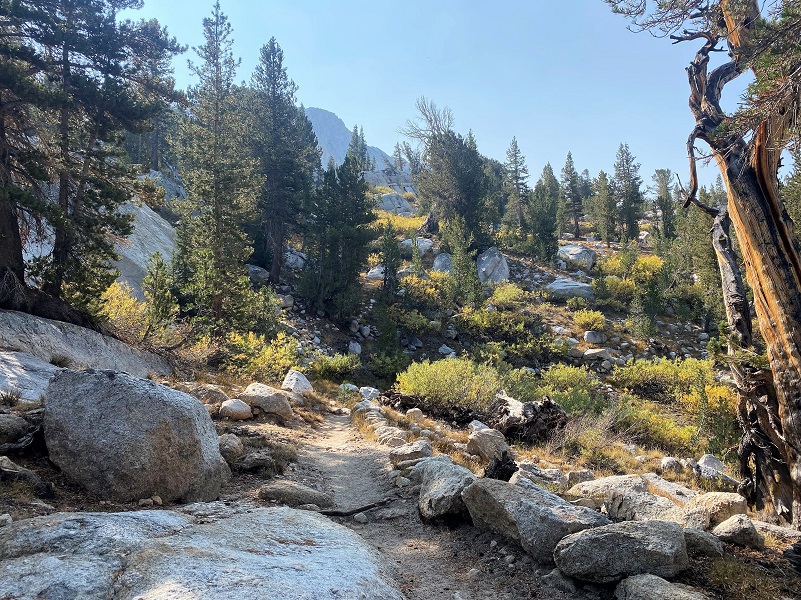 I caught glimpses of Boothe Lake, named for Clyde Boothe, a YNP ranger from 1915 to 1927. (Bingaman, Guardians, 93-94.) The lake was once the site of the Boothe Lake High Sierra Camp — which was later moved half a mile and renamed "Vogelsang."
Even with some smoke, Vogelsang Peak provides a beautiful backdrop to Vogelsang HSC. The peak was named by Col. H.C. Benson in 1907 and there are a couple of possibilities for the origin of the name. The peak was named for one of two brothers, either Charles A Vogelsang, an executive officer of California's State Fish and Game Commission from 1896–1901, or his brother Alexander Theodore Vogelsang, who served as president of the California State Board of Fish and Game from 1901-1910. The German word "vogelsang" can be translated as "a meadow in which birds sing".
Yosemite National Park has five historic High Sierra Camps that include Glen Aulin, May Lake, Sunrise, Merced Lake and Vogelsang. Camps are spaced 6 to 10 miles apart along a looped trail and they supply the tents, meals and some have showers. You can take a guided hike or saddle trip, or you can guide yourself on the hike between the camps. You can opt to stay in the tent cabins or if you are backpacking through the area, you can arrange ahead to enjoy a hot meal there. These are very popular and you sign up for a lottery. Since things have been so strange lately with COVID impacting the reservations, I can only share how it is normally done. From their website, the 2022 lottery is scheduled for October 1-31, 2021. The High Sierra Camp Lottery application will be available on their website only. If you are interested, I suggest you call them at 888-413-8869 and select option 4. If I receive updated information, I will try and update this blog with it.
From Sierra Nevada Geotourism:
Vogelsang Hikers Camp was originally built in 1924 alongside Booth Lake. This location proved unsuccessful due to the poor drainage, difficulties with the water supply, and an over abundance of mosquitoes. The camp relocated to a site near Tuolumne Pass in the early 1930s. Finally, in 1940 the camp moved to its present location at the base of Fletcher Peak.
Located creek-side near Fletcher Lake, Vogelsang is often named as a favorite spot in Yosemite by many a veteran visitor. This is truly an alpine setting at the highest elevation of all the camps with peaks, lakes, meadows and vistas within close proximity. Vogelsang is at the base of Fletcher Peak and famous for intense sunset alpenglow. Many alpine lakes in the area offer great opportunities for hiking and fishing. Day trip destinations include Evelyn and Ireland Lakes, Booth Lake, Emeric Lake, and Vogelsang Lake, Pass and Peak.
All High Sierra Camp lodging is in canvas tent cabins with dormitory-style steel frame beds with mattresses, pillows, woolen blankets or comforters. To maximize the number of people able to enjoy the High Camps, we do our best to fill all the beds. The staff makes every effort to keep members of a party in the same tent(s), but sometimes splitting a party is necessary.
A satisfying dinner and breakfast are served family-style in a main dining tent while you meet and compare notes with other High Sierra Camp lodging guests. Every effort is made to accommodate advance requests due to dietary restrictions such as food allergies, vegetarian or vegan diets. Sack lunches, which must be ordered the night before they're needed, may also be purchased at each camp.
Back in 2004, a group of us gals did the High Sierra Camp Loop and a big thank you to Gail Gilbert for digging up the photo of us at Vogelsang High Sierra Camp. That is me on the left and Gail on the right.
On my recent hike, the camp looked very different as it has been closed since 2018. How do I know this? Well, I thought it would be fun to stay at Vogelsang again and I entered the 2018 lottery for the stay, being successful, but it did not end up opening in 2019 due to a high snowpack, lack of access to water for bathrooms and kitchens and other infrastructure. I rolled my reservation for 2019 to 2020 and that was cancelled by Yosemite National Park due to impacts from COVID-19. So I rolled my reservation over to 2021, same COVID-19 closure. I then rolled my reservation to 2022 and sure hope things work out next year.
Since Vogelsang High Sierra Camp has been closed several years, it was looking a little rough on my visit. But I sat on the concrete and ate my lunch while admiring the view, daydreaming about what day hikes I would be taking when I stayed there the next time.
I headed back down the same way I had come up.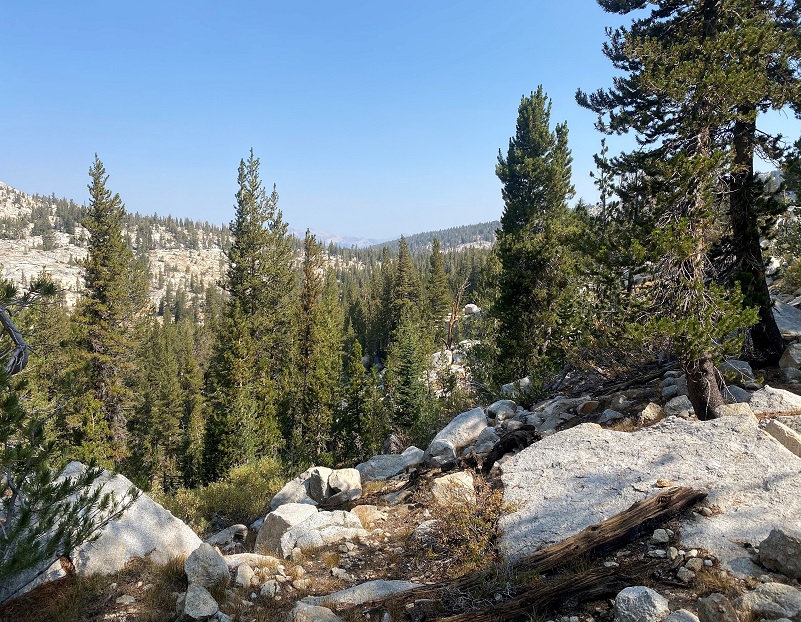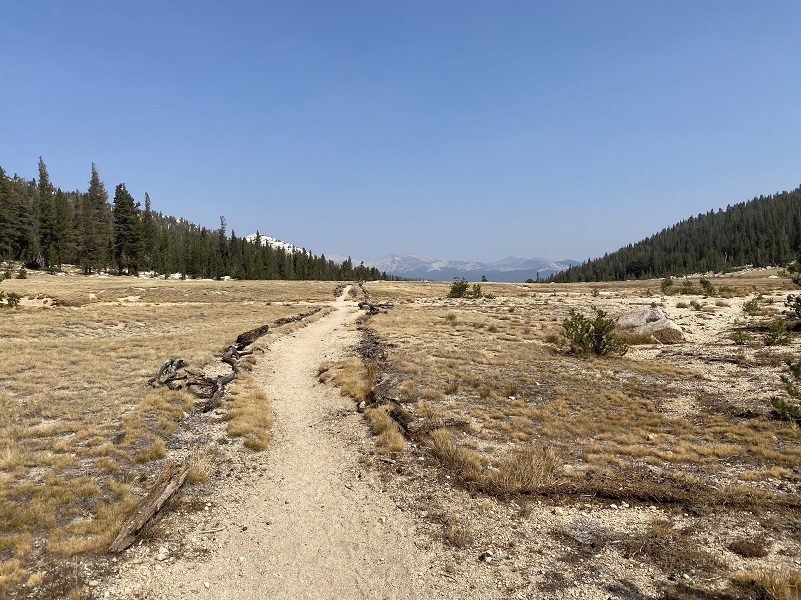 Dog Hike?

No, dogs not allowed in Yosemite National Park Wilderness.
Doarama:
What is a Doarama?  It is a video playback of the GPS track overlaid on a 3 dimensional interactive map. If you "grab" the map, you can tilt it or spin it and look at it from different viewing angles. With the rabbit and turtle buttons, you can also speed it up, slow it down or pause it.
Vogelsang HSC Doarama

Map and Profile:
CALTOPO has some free options for mapping and here is a link to my hike this week, which you can view or download: CALTOPO: Vogelsang HSC Hike
Sources:
Vogelsang High Sierra Camp Yosemite
Vogelsang High Sierra Camp Sierra Nevada Geotourism
Volegsang High Sierra Camp Wikipedia
Vogelsang High Sierra Camp National Register of Historic Places
Yosemite National Park Digital Archives Vogelsang
Browning, Peter, Yosemite Place Names, Great West Books, Lafayette California, 1988
Prior Blogs in This Area: