RICHARD EUGENE LAMONTAGNE
November 11, 1936 – October 26, 2023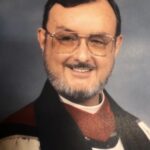 Richard Eugene Lamontagne was born on November 11, 1936 in Providence, Rhode Island to Eugene E. Lamontagne and Annette E. Lalime. He died on October 26, 2023 in Fresno, California.
Richard studied at the University of Ottawa in Canada receiving his Bachelor of Theology and Masters degrees. He was awarded a Doctor of Ministry from George Fox University in Portland, Oregon in 2002.
From 1973 to 1978, Richard served as a Chaplain in the U.S. Navy attaining the rank of Lieutenant. He married Nancy McKinnon May 6, 1978 and went on to serve in the Equal Employment Opportunity Commission. In 1989, he accepted the position of rector of St. Paul's Episcopal Church in Lancaster, California. He would go on to serve at the Church of the Resurrection in Clovis and St. Raphael's Episcopal Church in Oakhurst, retiring in 2002. In 2005, Richard and Nancy were received at Our Lady of the Sierras Catholic Church.
Richard served the mountain community in a variety of roles including Chaplain and board member of Helping Hands Pregnancy and Parenting Center, life member of the Griswold Mountain Detachment 1121 of the Marine Corps League, Chaplain to the Marine Corps League and Honor Guard member, Life Member of the VFW, and a Fourth Degree in the Knights of Columbus. He enjoyed teaching at his church and preparing teens for Confirmation. He also served as a Lector, Eucharistic Minister, and ministered to shut-ins at the Oakhurst Healthcare and Wellness Center.
Richard is survived by his wife, Nancy of Oakhurst and his brother, Paul Lamontagne (Sue) of Bennington, Vermont. Services will be held at Our Lady of the Sierras Catholic Church in Oakhurst on November 15th at 9:30 am (Rosary) and 10:00 am (funeral). In lieu of flowers, the family would be grateful for contributions to the Marine Corp League Toys for Tots program.