STOCKTON – The California Department of Transportation (Caltrans) is preparing to begin a maintenance project to improve the roadway surface of State Route 140 (SR-140) between East Whitlock Road and the Yosemite National Park entrance in Mariposa County.
The project will repair and replace deteriorating pavement work. The pavement work will include repairing failed roadway surface locations using hot-mix asphalt and installing concrete barriers and transitions, guardrails, signage, and new electrical systems.
Overnight, alternating lane closures on eastbound and westbound SR-140 will be required for motorists, roadway workers, and equipment safety.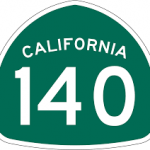 Beginning Monday, July 17, 2023, crews will work night shifts for approximately 180 working days – Sundays through Thursdays – with completion expected in April 2024. Overhead and roadside message signs will be placed on SR-140 to alert motorists of scheduled highway lane closures.
Detour signs will also be posted on surface streets. This $25 million project was awarded to Teichert Construction (Fresno, CA), who will perform the work required.
This project will benefit residents and tourists traveling to and from the town of Mariposa to Yosemite National Park, as well as motorists and commercial vehicles traveling throughout Mariposa County and beyond.
This project will improve mobility and greatly reduce current and future maintenance repair costs for this highly traveled corridor by improving the roadway surface.
Caltrans will provide continuous updates on scheduled lane and ramp closures and any other lane closure details in future traffic advisories and social media posts.
For more information and updates on additional projects, please consider following our social media accounts on Twitter via @CaltransDist10 or Facebook at Caltrans, District 10, or visit www.dot.ca.gov/d10/projects.
The work schedule is subject to change due to traffic incidents, weather, equipment and/or materials availability, and/or construction-related issues.
For the safety of workers and other motorists, please Be Work Zone Alert.