Late Fall Update from the Children's Museum of the Sierra –

Where have all the months gone??!?
Seems only a few short weeks ago that we were so excited when the Madera County Arts Council approached us about hosting photography and art classes at the museum. It sure made for a very fun and dynamic late summer after all the fun from the 6-week Summer Enrichment series that preceeded it. A big Thank You! to Jules Tuggle for making that happen!Now fall seems to be rushing by. We kicked off some new programs in September such as two Spanish language classes (pre-school and Homeschool) and Music & Movement (thanks so much to and Rosa Ruiz and Tamara Dent!), supported Heritage Days and the Oakhurst Fall Festival with activity areas, and held our very first Halloween Festival partnered with the Oakhurst Lions Club and the Cental Sierra Woodcarvers Thank you folks – the pumpkin carving and the burgers were very, very good! I think we need Chris Baker to come back and help us grill for the Summer Festival!
Oh and we've (finally) completed a long overdue revamp of the museum's website. You can check it out at www.childrensmuseumofthesierra.org Same old link – whole new design and content.
So what's up next? Glad you asked!
Breakfast With Santa
What two things could be better than this combo: a Kiwanis Club pancake breakfast and a visit from Santa? Not much by many a measure I would bet!
Well on Saturday, Dec. 1, you and the family can experience just that at the annual Breakfast with Santa! Breakfast will be served from 7:30 to 11 a.m. at the Oakhurst Community Center on Rd. 425B (map here), with seating in the main hall.
Oakhurst Kiwanis will be cooking the Pancake Breakfast which includes: pancakes, eggs, sausage and ham. Coffee and orange juice are also included. Adults $6, Children 5 to12 are $3, and children 4 and under are free.
Children can visit with Santa, get a gift or two and enjoy breakfast as well! For more information call us at the museum @ 658-5656. Hope to see you there! Ho ho ho ho!
Christmas Tree Auction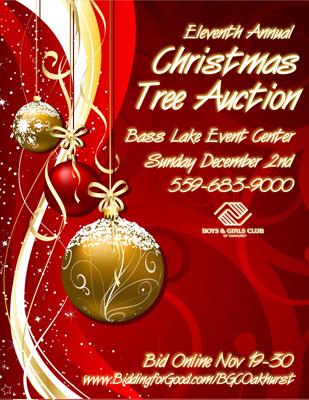 A fun way to end the weekend is at the 11th Annual Christmas Tree Live Auction on Sunday, Dec. 2. The event takes place at the Bass Lake Event Center's Lake View Room.
Doors open for the silent auction, raffle, hors d'oeuvres and complimentary champagne at 3 p.m. Bidding for the Live Auction begins at 5:30 p.m. Tickets are $30 per person or four for $100, advance.
We will have two entries in the auction. The first is a full sized tree adorned with numerous Keepsake Ornaments, donated by Dorsey's Hallmark Shop as well as the "How Ornament Lovers In Denial All Year Survive" club. These valuable ornaments will make it a truly special Christmas Tree whose decorations you can use for many years to come. Any true lover of Christmas would be proud to have this tree in their home.
The second entry is a wreath which will depict a Child's View of Christmas, and is decorated by kids from the Children's Museum of the Sierra. Each decoration was hand crafted by a local child to showcase what it is they love most about Christmas.
This is a great event that supports the Oakhurst Boys & Girls Club as well as many of the area's charitable organizations, of course including us. So please come out, enjoy a good time, bid early (and of course often) and support BGC and the Children's Museum! Your participation and contributions will be greatly appreciated!
Children's Museum of the Sierra
49269 Golden Oak Drive
Suite 104
Oakhurst, California