OAKHURST – Yosemite High School's Badger swim and dive teams went up against 5 other teams in the North Sequoia League Meet last Friday, May 9th.
Coach Brandon Brokaw said, "Our kids swam really well and did everything that they could to win the meet."
The teams Yosemite competed against are Kerman, Chowchilla, Firebaugh, Sierra and Dos Palos.
Brokaw continued, "It worked out for our boys. Unfortunately, some things didn't go our way and our girls ended up in second at the meet. Our girls are still co-champs and our boys are outright league champs, again."
Yosemite boys lead the scoreboard with 575 points, and Kerman came in second at 410. Kerman girls dominated the meet and came in first with 509.5 points, with Yosemite close on their heels at 496.5. Yosemite's swimmers worked hard, and several swims payed off enough to advance.

"We have 9 boys and 7 girls going on to the Division 2 Championships this Friday and Saturday in Bakersfield," said the coach.

Swimmers and parents offer their thanks to coaches Brokaw and Neely for a great season of swim and to Coach Sallie West for her expertise in dive.
Click on photos to enlarge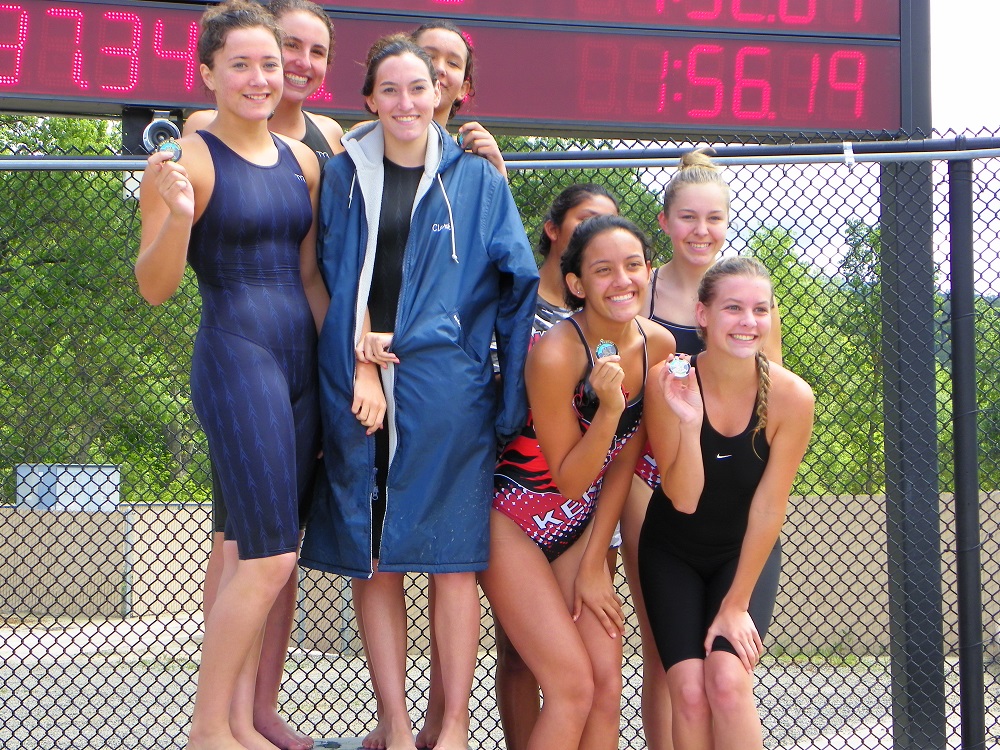 Event 1 Girls 200 Yard Medley Relay Varsity
Team Relay Finals Time
1 2014 NSL Championships – 5/9/2014
Results – Finals
Scores – Women
Women – Varsity – Team Rankings – Through Event 24
1. Kerman High Swimming 509.5 2. Yosemite High School 496.5
3. Chowchilla High School 329 4. Sierra High School 158
5. Firebaugh High School 147 6. Dos Palos High School 83
Scores – Men
Men – Varsity – Team Rankings – Through Event 24
1. Yosemite High School 575 2. Kerman High Swimming 410
3. Chowchilla High School 289.5 4. Dos Palos High School 225
5. Firebaugh High School 146.5 6. Sierra High School 112
Kerman High Swimming A 2:04.58
1) Hansen, Kandace 2) Obernesser, Ryan 3) Escamilla, Emi 4) Jobinger, Brittney
31.10 37.58 29.11 26.79
2 Chowchilla High School A 2:10.94
1) Myers, Meghan 2) Branstetter, Maig 3) Faust, Macey 4) Dykstra, Brook
33.53 39.75 29.07 28.59
3 Yosemite High School A 2:13.90
1) Meiss, Malory 2) Smith, Kimiko 17 3) Tapia, Nicole 4) Tapia, Kendra
4 Firebaugh High School-CC A 2:15.07
1) Cervantes, Mykaylah 2) Dedmon, Rosalynne 3) Villa, Edith 4) Riviera, Lexi
32.16 38.80 34.53 29.58
5 Sierra High School-CC A 2:16.01
1) Wilson, Grace 2) Moshier, Shelby 3) Kozielski, Shelby 4) Meininger, Ari
39.24 30.52 36.26 29.99
6 Dos Palos High School-CC A 2:51.83
1) Lopes, Cassie 15 2) Burns, Mia 16 3) Cardoza, Brenda 17 4) Meza, Adriana 16
51.25 41.73 39.59 39.26
— Sierra High School-CC B X2:47.12
1) Milsap, Abby 2) Milsap, Gabbi 3) Cooper, Tori 4) Little, London
57.18 40.55 37.58 31.81
Event 2 Boys 200 Yard Medley Relay Varsity
Team Relay Finals Time
1 Yosemite High School A 1:45.98
1) Wood, Jared 18 2) Kudela, Phillip 16 3) Foster, Jeff 18 4) Mulkey, Aaron
27.58 29.85 25.11 23.44
2 Chowchilla High School A 1:49.69
1) Eye, Jacob 2) Nomincos, Chris 3) Vlot, Cole 4) Clay, Cody
29.53 31.98 25.20 22.98
3 Kerman High Swimming A 1:49.90
1) Threde, Frank 2) Furtado, Chase 3) Fernandez, Humberto 4) Obernesser, Bailey
28.77 30.55 27.83 22.75
4 Sierra High School-CC A 1:59.36
1) Markos, Josh 2) Myers, Gabe 3) Knizek, Colin 4) Bressel, Dallyn
5 Firebaugh High School-CC A 2:07.69
1) Pacini, Jordan 2) Favela, Dalton 3) Chicas, Eric 4) Rojas, Marcos
31.94 39.90 30.22 25.63
6 Dos Palos High School-CC A 2:13.05
1) Donahue, Dylan 15 2) Llanez, Ashton 15 3) Hogue, Wyatt 16 4) Estrada, Brandon 16
35.39 38.03 33.05 26.58

Event 3 Girls 200 Yard Freestyle Varsity
Name Age School Finals Time
1 Dykstra, Brook Chowchilla High School 2:16.00
31.07 33.98 35.28 35.67
2 Clark, Haley 16 Yosemite High School 2:22.12
30.96 35.53 38.09 37.54
3 Tapia, Kendra Yosemite High School 2:23.20
31.69 35.42 38.19 37.90
4 Turner, Hannah Kerman High Swimming 2:26.58
32.68 36.59 38.01 39.30
5 Sosa, Sierra Yosemite High School 2:27.36
32.42 36.29 40.14 38.51 6 Siliznoff, Lauren Kerman High Swimming 2:31.83
34.45 1:57.38
7 Hernandez, Mariah Kerman High Swimming 2:32.59
33.15 37.36 40.97 41.11
8 Etharidge, Gabi Chowchilla High School 2:39.00
34.92 40.32 1:23.76
9 McCully, Brianna 15 Yosemite High School 2:41.82
35.54 40.97 43.67 41.64
10 Mercer, Amy Kerman High Swimming 2:42.57
35.73 39.88 43.85 43.11
11 Delgado, Jenny 17 Dos Palos High School-CC 2:48.48
37.34 42.74 45.13 43.27
12 Appling, Amber Chowchilla High School 2:52.94
38.06 42.42 46.88 45.58
13 Basler, Allison Chowchilla High School 2:55.23
35.71 43.33 49.79 46.40
14 Reyes, Daniela Firebaugh High School-CC 3:05.64
39.33 44.39 50.48 51.44
15 Gonzales, Dayana Firebaugh High School-CC 3:13.47
38.68 47.96 52.34 54.49
16 Meza, Adriana 16 Dos Palos High School-CC 3:30.77
42.26 52.68 58.70 57.13
17 Paz, Karina Firebaugh High School-CC 3:39.27
49.22 53.40 59.18 57.47
— Cabrera, Myra Firebaugh High School-CC DQ
38.58 44.90 53.39 28.21

Event 4 Boys 200 Yard Freestyle Varsity
Name Age School Finals Time
1 Eye, Jacob Chowchilla High School 1:57.17
26.68 29.70 30.98 29.81
2 Mulkey, Aaron Yosemite High School 1:57.87
25.98 30.03 31.39 30.47
3 Malcolm, Jaden Yosemite High School 2:03.40
27.00 30.44 32.89 33.07
4 Ashaq, Salomen Chowchilla High School 2:10.41
29.23 32.55 34.40 34.23
5 Merrill, Joseph Kerman High Swimming 2:14.98
29.59 33.28 36.01 36.10
6 Jones, Ryan 15 Dos Palos High School-CC 2:15.60
29.63 33.46 36.71 35.80
7 Donahue, Dylan 15 Dos Palos High School-CC 2:17.23
29.96 34.12 36.49 36.66
8 Favela, Dalton Firebaugh High School-CC 2:21.14
32.70 35.59 37.35 35.50
9 Thacker, Dylan Yosemite High School 2:22.76
31.21 34.82 38.61 38.12
10 Hanley, Johnathon Chowchilla High School 2:23.15
31.83 34.99 38.48 37.85
11 McLean, Peter Yosemite High School 2:24.81
31.03 35.45 38.19 40.14
12 Yniguez, Devon Kerman High Swimming 2:34.84
32.36 39.21 41.81 41.46 13 Lopez, Pedro Kerman High Swimming 2:37.27
28.75 35.53 44.56 48.43
14 Jelen, Gavin 14 Dos Palos High School-CC 2:42.13
32.80 39.06 44.87 45.40
15 Herrera, Chris Firebaugh High School-CC 2:44.73
30.90 38.52 46.89 48.42
16 Llanez, Ashton 15 Dos Palos High School-CC 2:44.79
35.27 41.74 1:27.78
17 Crank, Jonathan Firebaugh High School-CC 2:55.68
36.42 43.59 47.31 48.36
18 Carillo, Jose Kerman High Swimming 2:56.14
47.85 49.11
19 Morse, Evan Firebaugh High School-CC 3:04.42
39.56 46.34 50.03 48.49

Event 5 Girls 200 Yard IM Varsity
Name Age School Finals Time
1 Escamilla, Emi Kerman High Swimming 2:34.83
30.72 38.43 47.69 37.99
2 Curley, Rose 15 Yosemite High School 2:37.59
30.64 41.50 47.27 38.18
3 Myers, Meghan Chowchilla High School 2:41.70
34.59 40.57 49.41 37.13
4 Seale, Jordan Chowchilla High School 2:42.45
33.04 41.00 51.54 36.87
5 Barajas, Stephanie Kerman High Swimming 2:50.88
35.34 41.54 53.85 40.15
6 Prieto, Hailey Kerman High Swimming 2:54.67
38.92 40.21
7 McGoldrick, Isabel Yosemite High School 3:04.48
40.21 46.38 55.36 42.53
8 Dodd, Nastasia 16 Yosemite High School 3:04.88
35.93 51.47 52.62 44.86
9 Beene, Bailey Kerman High Swimming 3:06.27
38.40 49.28 56.85 41.74
— Cardoza, Brenda 17 Dos Palos High School-CC DQ
41.84 56.77 1:03.62 1:09.75
— Johnson-Lusk, Helena Yosemite High School DQ
43.27 50.53 52.03 45.40

Event 6 Boys 200 Yard IM Varsity
Name Age School Finals Time
1 Vlot, Cole Chowchilla High School 2:18.57
27.81 35.63 42.59 32.54
2 Wood, Travis 16 Yosemite High School 2:30.31
30.67 35.76
3 Murphy, Hunter 18 Yosemite High School 2:33.04
33.93 40.15 42.91 36.05
4 Hartesveldt, Ben 18 Yosemite High School 2:37.99
31.50 40.53 48.01 37.95
5 Kochergen, David Kerman High Swimming 2:54.21
34.11 42.84
6 Birch, Evan Kerman High Swimming 2:54.37
32.34 44.72 1:00.94 36.37 7 Dring, Seth 14 Dos Palos High School-CC 2:57.28
35.46 40.39
8 Martinez, Adam Kerman High Swimming 2:59.61
33.12 51.88 53.17 41.44
9 Martinez, James Firebaugh High School-CC 3:12.33
36.98 48.89 59.00 47.46
— Hogue, Wyatt 16 Dos Palos High School-CC DQ
33.47 48.56 54.69 38.32
— Kudela, Phillip 16 Yosemite High School DQ
27.80 34.32 40.78 29.53
— Isaak, Jacob Kerman High Swimming DQ
36.49 46.22 56.66 44.70

Event 7 Girls 50 Yard Freestyle Varsity
Name Age School Finals Time
1 Faust, Macey Chowchilla High School 26.65
2 McConville, Julia Yosemite High School 26.71
3 Jobinger, Brittney Kerman High Swimming 27.46
4 Obernesser, Ryan Kerman High Swimming 28.15
5 Howell, Kayla Yosemite High School 28.92
6 Kozielski, Shelby Sierra High School-CC 29.00
7 Donahue, Madison Chowchilla High School 29.16
8 Sosa, Sierra Yosemite High School 29.34
9 Riviera, Lexi Firebaugh High School-CC 29.60
10 Kochergen, Michelle Kerman High Swimming 29.93
11 Burns, Mia 16 Dos Palos High School-CC 30.12
12 Magana, Catherine Kerman High Swimming 30.13
13 McIntyre, Miranda Chowchilla High School 32.31
14 Pearson, Laura Yosemite High School 32.69
15 Meininger, Ari Sierra High School-CC 33.01
16 Wolf, Whittney Kerman High Swimming x33.05
17 Sullins, Sandy Chowchilla High School 33.21
18 Cooper, Tori Sierra High School-CC 33.29
19 Clark, Angelina 18 Yosemite High School x34.17
20 Diamante, Emily Sierra High School-CC 34.85
21 Lopes, Cassie 15 Dos Palos High School-CC 36.98
22 Meza, Adriana 16 Dos Palos High School-CC 39.95
23 Pina, Cassandra Firebaugh High School-CC 43.48
24 Juarez, Janet Firebaugh High School-CC 45.82
25 Hildalgo, Raquel Firebaugh High School-CC 59.26

Event 8 Boys 50 Yard Freestyle Varsity
Name Age School Finals Time
1 Clay, Cody Chowchilla High School 23.29
2 Obernesser, Bailey Kerman High Swimming 23.47
3 Foster, Jeff 18 Yosemite High School 23.66
4 Curley, Oliver 17 Yosemite High School 24.78
5 Mendrin, Michael Kerman High Swimming 24.82
6 Gonsales, Arthur Kerman High Swimming 25.25
7 Catrina, Ben 18 Dos Palos High School-CC 25.28
8 Masai, Dillan 18 Yosemite High School 25.45
9 Bressel, Dallyn Sierra High School-CC 25.52
10 Souza, Ben 17 Dos Palos High School-CC 25.65 *11 Martinez, Max Chowchilla High School 26.04
*11 Rojas, Marcos Firebaugh High School-CC 26.04
13 Markos, Josh Sierra High School-CC 26.13
14 McLean, Phillip 17 Yosemite High School 26.31
15 Estrada, Brandon 16 Dos Palos High School-CC 26.33
16 Davis, Jacob Sierra High School-CC 26.52
*17 Knizek, Colin Sierra High School-CC 26.74
*17 Moshier, Alan Sierra High School-CC x26.74
19 Acosta, Joseph Kerman High Swimming 27.82
20 Alfaro, Arnaldo Firebaugh High School-CC 27.97
21 Radavero, Chase Kerman High Swimming x28.49
22 Hanley, Johnathon Chowchilla High School 28.66
23 Juarez, Juan Firebaugh High School-CC 30.20
24 Rodriquez, Alexis Firebaugh High School-CC 31.31
25 Bryant, Adam 18 Dos Palos High School-CC 32.12
26 Springer, Matthew 17 Yosemite High School x36.36

Event 9 Girls 100 Yard Butterfly Varsity
Name Age School Finals Time
1 Curley, Rose 15 Yosemite High School 1:08.82
31.46 37.36
2 Escamilla, Emi Kerman High Swimming 1:11.53
32.33 39.20
*3 Hernandez, Mariah Kerman High Swimming 1:14.65
34.72 39.93
*3 Tapia, Nicole Yosemite High School 1:14.65
34.16 40.49
5 Dodd, Nastasia 16 Yosemite High School 1:22.62
36.86 45.76
6 Goodell, Lindsey Kerman High Swimming 1:23.66
37.72 45.94
7 Burns, Mia 16 Dos Palos High School-CC 1:24.56
37.45 47.11
8 Howell, Kayla Yosemite High School 1:26.79
37.00 49.79
9 Cooper, Tori Sierra High School-CC 1:35.65
41.71 53.94
— Villa, Edith Firebaugh High School-CC DQ
— Cardoza, Brenda 17 Dos Palos High School-CC DQ
42.54 51.93

Event 10 Boys 100 Yard Butterfly Varsity
Name Age School Finals Time
1 Foster, Jeff 18 Yosemite High School 57.17
26.00 31.17
2 Nomincos, Chris Chowchilla High School 1:00.93
27.77 33.16
3 Threde, Frank Kerman High Swimming 1:01.68
27.84 33.84
4 Wood, Trevor 16 Yosemite High School 1:02.76
29.23 33.53
5 Conley, Tim 17 Yosemite High School 1:04.82
29.67 35.15 6 Knizek, Colin Sierra High School-CC 1:05.28
31.84 33.44
7 Fernandez, Humberto Kerman High Swimming 1:09.46
30.21 39.25
8 Chicas, Eric Firebaugh High School-CC 1:14.99
32.83 42.16
9 Hogue, Wyatt 16 Dos Palos High School-CC 1:22.30
35.12 47.18
— Dring, Seth 14 Dos Palos High School-CC DQ
37.33 47.92
— Ramos, Brandon Kerman High Swimming DQ
31.69 43.25

Event 11 Girls 100 Yard Freestyle Varsity
Name Age School Finals Time
1 McConville, Julia Yosemite High School 58.31
27.65 30.66
2 Wilson, Grace Sierra High School-CC 1:00.67
29.74 30.93
3 Hansen, Kandace Kerman High Swimming 1:01.05
28.56 32.49
4 Jobinger, Brittney Kerman High Swimming 1:02.10
29.34 32.76
5 Meiss, Malory Yosemite High School 1:05.14
31.18 33.96
6 Seale, Jordan Chowchilla High School 1:05.83
31.17 34.66
7 Errecart, Macy Kerman High Swimming 1:06.78
32.01 34.77
8 Donahue, Madison Chowchilla High School 1:06.85
32.21 34.64
9 Kozielski, Shelby Sierra High School-CC 1:06.89
32.53 34.36
10 Magana, Catherine Kerman High Swimming 1:08.04
32.97 35.07
11 McGoldrick, Isabel Yosemite High School 1:09.77
32.62 37.15
12 Dedmon, Cheyenne Firebaugh High School-CC 1:12.31
35.04 37.27
13 Briley, Clara 16 Yosemite High School 1:12.77
35.63 37.14
14 Parker, Natalynn Firebaugh High School-CC 1:13.33
34.49 38.84
15 Branstetter, Maig Chowchilla High School 1:14.38
34.80 39.58
16 Meininger, Ari Sierra High School-CC 1:14.56
34.24 40.32
17 Appling, Amber Chowchilla High School 1:15.89
35.33 40.56
18 Little, London Sierra High School-CC 1:16.13
35.11 41.02
19 Wolf, Whittney Kerman High Swimming x1:16.19
35.57 40.62 20 Lopes, Cassie 15 Dos Palos High School-CC 1:27.94
43.41 44.53
21 Velazquez, Marlen Firebaugh High School-CC 1:29.37
42.47 46.90
22 Paredes, Jackie Firebaugh High School-CC 1:39.95
46.91 53.04
— Pearson, Laura Yosemite High School DQ

Event 12 Boys 100 Yard Freestyle Varsity
Name Age School Finals Time
1 Obernesser, Bailey Kerman High Swimming 51.97
2 Eye, Jacob Chowchilla High School 52.82
3 Furtado, Chase Kerman High Swimming 52.83
4 Mulkey, Aaron Yosemite High School 52.85
5 Wood, Jared 18 Yosemite High School 53.55
6 Curley, Oliver 17 Yosemite High School 55.76
7 Mendrin, Michael Kerman High Swimming 56.95
8 Souza, Ben 17 Dos Palos High School-CC 58.76
26.79 31.97
9 Catrina, Ben 18 Dos Palos High School-CC 58.89
27.31 31.58
10 Markos, Josh Sierra High School-CC 59.03
28.45 30.58
11 Garcia, Ayden Chowchilla High School 59.19
28.89 30.30
12 Gonsales, Arthur Kerman High Swimming 59.52
13 Myers, Gabe Sierra High School-CC 59.87
27.72 32.15
14 Martinez, Max Chowchilla High School 1:00.31
29.32 30.99
15 Lawrence, Ben Chowchilla High School 1:01.92
28.83 33.09
16 Lopez, Pedro Kerman High Swimming x1:03.50
28.30 35.20
17 Davis, Jacob Sierra High School-CC 1:03.87
29.24 34.63
18 Martinez, James Firebaugh High School-CC 1:10.47
31.33 39.14
19 Rodriquez, Alexis Firebaugh High School-CC 1:17.99
37.12 40.87
20 Springer, Matthew 17 Yosemite High School 1:18.21
38.17 40.04
21 Garnica, Jose Firebaugh High School-CC 1:24.26
38.38 45.88
22 Maldonado, Miguel Firebaugh High School-CC 1:24.69
37.39 47.30

Event 13 Girls 500 Yard Freestyle Varsity
Name Age School Finals Time
1 Dykstra, Brook Chowchilla High School 6:04.09
32.59 35.38 36.43 37.09 36.79 37.33 37.46 38.23
37.19 35.60 2 Clark, Haley 16 Yosemite High School 6:22.13
33.25 35.60 37.63 38.61 39.55 40.07 40.24 39.76
39.34 38.08
3 Tapia, Kendra Yosemite High School 6:24.86
33.64 36.17 38.16 38.98 39.42 39.71 39.93 40.05
40.06 38.74
4 Moshier, Shelby Sierra High School-CC 6:36.34
33.22 37.39 38.88 39.35 40.45 40.73 41.67 42.09
42.18 40.38
5 Turner, Hannah Kerman High Swimming 6:41.41
35.55 39.31 40.37 40.92 41.05 41.56 41.41 41.80
40.84 38.60
6 Smith, Kimiko 17 Yosemite High School 6:53.35
36.62 39.53 40.98 42.36 42.88 43.38 43.30 42.05
41.69 40.56
7 Wade, Taylor 15 Yosemite High School 6:55.25
37.59 40.10 41.55 42.87 42.88 43.13 42.41 41.52
42.79 40.41
8 Siliznoff, Lauren Kerman High Swimming 7:00.01
35.19 39.31 41.58 42.83 43.34 44.25 44.98 44.36
44.44 39.73
9 Beene, Bailey Kerman High Swimming 7:13.34
35.68 40.93 43.51 43.76 45.76 45.56 46.28 45.68
45.49 40.69
10 Basler, Allison Chowchilla High School 7:38.88
37.64 44.81 46.55 47.97 48.47 46.61 47.78 46.80
46.28 45.97
11 Delgado, Jenny 17 Dos Palos High School-CC 7:42.48
38.72 44.61 46.89 47.67 47.75 48.61 48.86 48.27
47.03 44.07
12 Mercer, Amy Kerman High Swimming 7:48.24
40.21 45.08 47.35 48.12 48.00 47.53 49.75 49.51
48.59 44.10

Event 14 Boys 500 Yard Freestyle Varsity
Name Age School Finals Time
1 Kudela, Phillip 16 Yosemite High School 5:00.55
26.39 29.19 30.09 29.58 30.48 31.10 31.69 31.65
30.65 29.73
2 Clay, Cody Chowchilla High School 5:19.78
26.63 29.16 30.12 31.29 31.62 32.81 34.28 34.96
34.79 34.12
3 Malcolm, Jaden Yosemite High School 5:45.66
30.15 32.94 34.42 35.80 35.76 36.26 36.77 35.29
35.26 33.01
4 Ashaq, Salomen Chowchilla High School 5:53.02
30.63 33.02 33.96 34.79 35.68 36.54 37.80 37.80
37.63 35.17
5 Wood, Trevor 16 Yosemite High School 5:56.69
29.23 33.21 34.76 36.16 37.65 38.05 37.87 37.87
37.53 34.36
6 Conley, Tim 17 Yosemite High School 6:08.04
31.33 33.88 35.73 37.26 38.32 38.56 38.61 38.50
38.88 36.97 7 Jones, Ryan 15 Dos Palos High School-CC 6:23.60
31.24 36.57 36.58 39.50 40.30 41.14 39.12 41.75
40.41 36.99
8 Moshier, Alan Sierra High School-CC 6:30.15
31.11 36.69 38.39 39.60 40.37 41.18 41.51 41.39
42.09 37.82
9 Birch, Evan Kerman High Swimming 6:53.31
36.30 41.37 41.79 44.18 41.00 42.50 41.63 43.37
41.15 40.02
10 Godzdiff, John Kerman High Swimming 7:17.93
32.82 39.41 44.09 45.27 46.50 46.07 47.78 49.15
46.77 40.07
11 Jelen, Gavin 14 Dos Palos High School-CC 7:39.95
33.22 39.76 43.40 45.95 45.83 46.92 50.72 52.73
53.33 48.09
12 Isaak, Jacob Kerman High Swimming 7:42.86
35.68 40.97 45.50
46.00
13 Yniguez, Devon Kerman High Swimming 7:51.19
37.19 45.07 47.98 48.61 48.89 48.38 50.46 49.39
51.42 43.80
14 Acosta, Joseph Kerman High Swimming x8:21.31
40.39 47.71 50.31 52.46 53.49 47.83
53.94 46.88

Event 15 Girls 200 Yard Freestyle Relay Varsity
Team Relay Finals Time
1 Yosemite High School A 1:51.96
1) Clark, Haley 16 2) Tapia, Kendra 3) Curley, Rose 15 4) McConville, Julia
28.88 28.88 27.66 26.54
2 Kerman High Swimming A 1:53.76
1) Kochergen, Michelle 2) Barajas, Stephanie 3) Magana, Catherine 4) Obernesser, Ryan
30.62 27.42 28.12 27.60
3 Chowchilla High School A 1:55.38
1) Donahue, Madison 2) Seale, Jordan 3) Dykstra, Brook 4) Faust, Macey
30.04 30.78 31.72 22.84
4 Firebaugh High School-CC A 1:59.41
1) Cervantes, Mykaylah 2) Dedmon, Rosalynne 3) Dedmon, Cheyenne 4) Riviera, Lexi
29.26 29.52 31.07 29.56
5 Sierra High School-CC A 2:05.95
1) Meininger, Ari 2) Little, London 3) Kozielski, Shelby 4) Wilson, Grace
33.67 33.30 30.14 28.84
6 Dos Palos High School-CC A 2:23.90
1) Burns, Mia 16 2) Delgado, Jenny 17 3) Lopes, Cassie 15 4) Cardoza, Brenda 17
38.58 29.73 1:28.50
— Sierra High School-CC B X2:22.24
1) Milsap, Gabbi 2) Milsap, Abby 3) Diamante, Emily 4) Cooper, Tori
36.26 39.46 33.48 33.04
— Firebaugh High School-CC B X2:25.12
1) Villa, Edith 2) Cabrera, Myra 3) Parker, Natalynn 4) Gonzales, Dayana
40.73 32.88 34.00 37.51
Event 16 Boys 200 Yard Freestyle Relay Varsity
Team Relay Finals Time
1 Yosemite High School A 1:40.05
25.66 25.92 24.44 24.03
2 Kerman High Swimming A 1:43.17
1) Gonsales, Arthur 2) Martinez, Adam 3) Merrill, Joseph 4) Mendrin, Michael
25.71 26.77 25.93 24.76
3 Sierra High School-CC A 1:45.52
1) Davis, Jacob 2) Markos, Josh 3) Knizek, Colin 4) Bressel, Dallyn
26.46 26.89 26.95 25.22
4 Dos Palos High School-CC A 1:47.28
1) Souza, Ben 17 2) Jones, Ryan 15 3) Dring, Seth 14 4) Catrina, Ben 18
25.85 25.98 28.02 27.43
5 Firebaugh High School-CC A 1:52.87
1) Rojas, Marcos 2) Pacini, Jordan 3) Favela, Dalton 4) Chicas, Eric
26.07 27.50
— Firebaugh High School-CC B X1:56.19
1) Alfaro, Arnaldo 2) Juarez, Juan 3) Martinez, James 4) Herrera, Chris
28.17 29.89 29.65 28.48
— Dos Palos High School-CC B X1:59.70
1) Llanez, Ashton 15 2) Bryant, Adam 18 3) Jelen, Gavin 14 4) Hogue, Wyatt 16
29.71 32.84 26.78 30.37
— Chowchilla High School A DQ
1) Eye, Jacob 2) Vlot, Cole 3) Nomincos, Chris 4) Clay, Cody
24.68 24.12 25.01 23.53

Event 17 Girls 100 Yard Backstroke Varsity
Name Age School Finals Time
1 Wilson, Grace Sierra High School-CC 1:06.52
32.43 34.09
2 Hansen, Kandace Kerman High Swimming 1:09.53
33.11 36.42
3 Cervantes, Mykaylah Firebaugh High School-CC 1:10.29
34.04 36.25
4 Myers, Meghan Chowchilla High School 1:13.79
35.93 37.86
5 Meiss, Malory Yosemite High School 1:16.24
36.63 39.61
6 Barajas, Stephanie Kerman High Swimming 1:16.25
7 Tapia, Nicole Yosemite High School 1:17.14
8 Neal, Kaily Yosemite High School 1:17.19
9 Errecart, Macy Kerman High Swimming 1:17.60
37.06 40.54
10 Prieto, Hailey Kerman High Swimming 1:20.47
38.22 42.25
11 Wade, Taylor 15 Yosemite High School 1:23.09
39.61 43.48
12 McIntyre, Miranda Chowchilla High School 1:26.65
41.77 44.88
13 Diaz, Ellissa Kerman High Swimming x1:49.35
49.95 59.40
14 Rubio, Sandy Firebaugh High School-CC 2:23.05
1:08.37 1:14.68
15 Estrada-Rubio, Amanda Firebaugh High School-CC 2:42.01
1:14.28 1:27.73 16 Estrada-Rubio, Marilyn Firebaugh High School-CC 3:10.26
1:28.87 1:41.39

Event 18 Boys 100 Yard Backstroke Varsity
Name Age School Finals Time
1 Wood, Jared 18 Yosemite High School 1:01.35
29.27 32.08
2 Vlot, Cole Chowchilla High School 1:05.20
32.71 32.49
3 Threde, Frank Kerman High Swimming 1:05.31
31.34 33.97
4 Wood, Travis 16 Yosemite High School 1:06.10
32.04 34.06
5 McLean, Peter Yosemite High School 1:10.10
33.35 36.75
6 Ramos, Brandon Kerman High Swimming 1:12.20
33.63 38.57
7 Pacini, Jordan Firebaugh High School-CC 1:12.49
35.02 37.47
8 Garcia, Ayden Chowchilla High School 1:14.83
35.92 38.91
9 Donahue, Dylan 15 Dos Palos High School-CC 1:16.62
10 Kochergen, David Kerman High Swimming 1:19.21
11 Estrada, Brandon 16 Dos Palos High School-CC 1:21.64
38.23 43.41
12 Bradshaw, Joel Yosemite High School 1:29.41
41.80 47.61
13 Patlan, Vincent Firebaugh High School-CC 1:33.36
43.18 50.18
14 Descov, Seva Kerman High Swimming 1:41.23
15 Rivas, Jose Firebaugh High School-CC 1:52.91
50.84 1:02.07
16 Morse, Evan Firebaugh High School-CC 1:53.60
53.37 1:00.23

Event 19 Girls 100 Yard Breaststroke Varsity
Name Age School Finals Time
1 Faust, Macey Chowchilla High School 1:15.42
35.54 39.88
2 Obernesser, Ryan Kerman High Swimming 1:21.92
38.12 43.80
3 Moshier, Shelby Sierra High School-CC 1:25.84
40.32 45.52
4 Goodell, Lindsey Kerman High Swimming 1:26.67
41.07 45.60
5 Branstetter, Maig Chowchilla High School 1:27.22
40.04 47.18
6 Smith, Kimiko 17 Yosemite High School 1:27.82
41.49 46.33
7 Etharidge, Gabi Chowchilla High School 1:28.05
42.21 45.84
8 Vallejo, Cloey Kerman High Swimming 1:28.21
40.75 47.46 9 Kochergen, Michelle Kerman High Swimming 1:28.35
40.56 47.79
10 Dedmon, Rosalynne Firebaugh High School-CC 1:29.38
42.22 47.16
11 Clark, Angelina 18 Yosemite High School 1:29.61
42.27 47.34
12 Johnson-Lusk, Helena Yosemite High School 1:30.37
42.52 47.85
13 Boyd Escobedo, Delaney Kerman High Swimming x1:37.73
44.68 53.05
14 Sullins, Sandy Chowchilla High School 1:39.31
47.23 52.08
15 Magdaleno, Mystery Firebaugh High School-CC 1:49.86
50.60 59.26
— Little, London Sierra High School-CC DQ
45.83 53.48
— Reyes, Daniela Firebaugh High School-CC DQ
57.29 1:07.61
— Neal, Kaily Yosemite High School DQ
41.64 45.75
Event 20 Boys 100 Yard Breaststroke Varsity
Name Age School Finals Time
1 Furtado, Chase Kerman High Swimming 1:09.80
32.85 36.95
2 Nomincos, Chris Chowchilla High School 1:12.26
34.02 38.24
3 Lawrence, Ben Chowchilla High School 1:14.94
34.79 40.15
4 Murphy, Hunter 18 Yosemite High School 1:16.47
36.44 40.03
5 Hartesveldt, Ben 18 Yosemite High School 1:17.35
36.04 41.31
6 Thacker, Dylan Yosemite High School 1:17.79
36.71 41.08
7 Merrill, Joseph Kerman High Swimming 1:19.47
36.56 42.91
8 McLean, Phillip 17 Yosemite High School 1:23.69
38.36 45.33
9 Llanez, Ashton 15 Dos Palos High School-CC 1:23.84
39.24 44.60
10 Radavero, Chase Kerman High Swimming 1:23.93
38.96 44.97
11 Martinez, Adam Kerman High Swimming 1:24.17
39.23 44.94
12 Herrera, Chris Firebaugh High School-CC 1:32.74
41.06 51.68
13 Bryant, Adam 18 Dos Palos High School-CC 1:40.13
46.11 54.02
Event 21 Girls 400 Yard Freestyle Relay Varsity
Team Relay Finals Time
1 Kerman High Swimming A 4:03.70
1) Hansen, Kandace 2) Barajas, Stephanie 3) Jobinger, Brittney 4) Escamilla, Emi
28.34 1:00.35 30.16 1:02.88 27.96 1:00.50 27.89 59.97
2 Yosemite High School A 4:08.22
1) Clark, Haley 16 2) Tapia, Nicole 3) Curley, Rose 15 4) McConville, Julia
30.47 1:05.30 30.18 1:03.43 29.03 1:01.60 26.92 57.89
3 Chowchilla High School A 4:38.60
1) McIntyre, Miranda 2) Myers, Meghan 3) Donahue, Madison 4) Seale, Jordan
31.73 1:07.59 35.29 1:15.89 32.27 1:07.48 31.68 1:07.64
4 Firebaugh High School-CC A 4:40.95
1) Cervantes, Mykaylah 2) Dedmon, Rosalynne 3) Parker, Natalynn 4) Riviera, Lexi
32.26 1:10.37 31.76 1:08.63 34.68 1:15.08 31.40 1:06.87
— Firebaugh High School-CC B X5:37.44
1) Cabrera, Myra 2) Dedmon, Cheyenne 3) Gonzales, Dayana 4) Villa, Edith
39.12 1:22.85 33.67 1:13.72 39.07 1:29.23 42.73 1:31.64
— Dos Palos High School-CC A DQ
— Dos Palos High School-CC B XDQ

Event 22 Boys 400 Yard Freestyle Relay Varsity
Team Relay Finals Time
1 Yosemite High School A 3:31.68
1) Kudela, Phillip 16 2) Curley, Oliver 17 3) Mulkey, Aaron 4) Foster, Jeff 18
24.68 51.95 25.47 54.73 24.90 52.81 24.44 52.19
2 Kerman High Swimming A 3:40.37
1) Obernesser, Bailey 2) Fernandez, Humberto 3) Mendrin, Michael 4) Furtado, Chase
25.01 53.03 26.40 56.53 25.24 57.37 24.26 53.44
3 Dos Palos High School-CC A 4:00.56
1) Souza, Ben 17 2) Jones, Ryan 15 3) Donahue, Dylan 15 4) Catrina, Ben 18
26.98 59.34 28.49 1:02.13 28.35 1:00.63 27.12 58.46
4 Chowchilla High School A 4:01.71
1) Ashaq, Salomen 2) Garcia, Ayden 3) Lawrence, Ben 4) Martinez, Max
27.74 58.64 29.87 1:03.68 28.87 1:00.11 28.78 59.28
5 Firebaugh High School-CC A 4:12.67
1) Rojas, Marcos 2) Favela, Dalton 3) Chicas, Eric 4) Pacini, Jordan
28.41 1:03.01 28.02 1:05.65 25.40 1:02.08 29.45 1:01.93
— Firebaugh High School-CC B X5:13.62
1) Alfaro, Arnaldo 2) Juarez, Juan 3) Martinez, James 4) Herrera, Chris
33.31 1:11.33 1:11.20 1:42.55 40.12 1:12.47 36.23 1:07.27
— Dos Palos High School-CC B XDQ

Event 23 Girls 1 mtr Diving Varsity
Name Age School Finals Score
1 Briley, Clara 16 Yosemite High School 177.90
2 Medina, Jocelyn Kerman High Swimming 147.40

Event 24 Boys 1 mtr Diving Varsity
Name Age School Finals Score
1 McGee, Chance Yosemite High School 240.05
2 Masai, Dillan 18 Yosemite High School 236.95
3 Bradshaw, Joel Yosemite High School 223.40
4 Fernandez, Humberto Kerman High Swimming 203.00