Written by –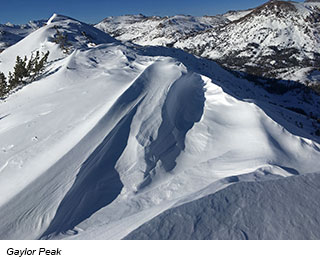 Spring has arrived in Tuolumne Meadows. This week, the weather held (in chronological order):  rain, heavy snow, thundersnow, southwest wind, northeast wind and, now, sun.
The low-density snow that fell at the end of the storm made for some fine, but ephemeral, powder ski conditions. The last two days, a significant upslope wind event has changed these conditions in the alpine terrain dramatically, redistributing snow from lee to windward slopes.
New snow: 33 inches
Total settled snow depth: 44 inches (at 8,600 feet)
Total "Miracle March" snowfall:  123 inches (at 8,600 feet)
High temperature: 44°F (March 27)
Low temperature:  -2°F (March 24)
The colder temperatures of last week are now being followed by a warming trend that is forecast through the beginning of April. Spring skiing anyone? It will take at least a few more days of melt/freeze cycles to set up the snowpack into more of a spring-like one (isothermic).
The skiing should be improving as the warm days and cold nights act to turn the snow surface into what is referred to as corn snow. This will occur on south aspects first, followed by east-west-north. This is all subject to change with variations in temperatures, cloud cover, wind, and new precipitation.
The alpine zone will probably take longer to transition. In the meantime, expect a mixed bag of sastrugi, breakable crusts, and firm to icy conditions in places. Ice axe and crampons are recommended in those areas.
The Tioga Road is 100% snow covered from Crane Flat from the west to approximately the 9,000-foot line east of Tioga Pass.
Avalanche and Snowpack Conditions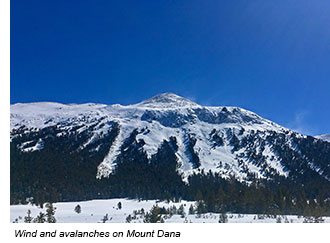 For the avalanche advisory for this area of the Sierra Nevada go to www.esavalanche.org for the Eastern Sierra Avalanche Center.
It was like an avalanche laboratory in the Yosemite high country this week, as we observed many different types of avalanches with the varied weather events. The most significant avalanching occurred during the atmospheric river, when a large amount of water (snow and rain=load) fell over a short period of time and stressed the snowpack beyond its strength.
This was complicated by the fact that the heavy snow fell on low-density snow from earlier in the month. Some of these "storm slab" avalanches stepped down into existing weak layers buried deeper in the snowpack and caused deep slab avalanches. The largest of these occurred in the Tuolumne Meadows area at tree line on steep north facing slopes.
Wind slab avalanches were observed on lee slopes where the wind had deposited dense snow in alpine terrain. These wind slab avalanches have been forming over the last couple of days, as well, even though it has not snowed in three days. Tuesday at tree line, we observed a natural wind slab avalanche on the west slope of Mt.Dana that was caused by these winds.
Given the warm sunny days forecasted, the attention will now be towards wet avalanches. Visitors should be prepared for changing conditions, and use caution when travelling on or under steep slopes during rapid warming events especially if it doesn't freeze at night.
Wildlife
This morning one can hear the drumming of two hairy woodpeckers, one nearby and the other farther away. (According to author and bird expert, Sibley, normally one cannot distinguish between the woodpeckers' drumming patterns due to the difference in substrate, distance, and similar drumming patterns of species; however one of this pair was seen). We were not able to discern whether they were male or female birds since, unlike many other singing ones, both play active roles in this form of communication.
General Information
The Tuolumne Meadows Ski Hut is open. There is firewood and eight bunks that are available on a first-come, first-served basis. There is no phone service in Tuolumne Meadows at this time.
We can be contacted regarding winter travel to Tuolumne Meadows via email, but we may be delayed in responding if we are on patrol. For permit information: https://www.nps.gov/yose/planyourvisit/wildpermits.htm. or you may contact the wilderness office at 209-372-0740.
Come prepared, and please make good decisions while traveling in the wilderness this winter!
Laura and Rob Pilewski – Tuolumne Winter Rangers
Follow Laura and Rob's blog at https://www.nps.gov/yose/blogs/update-for-march-28-2018.htm