Rain, snow, clouds then the bluest of skies with pristine white snow greeted us while we snowshoed from Yosemite Ski & Snowboard Area along the Merced Crest. We were treated to views of the snowy Clark Range, Liberty Cap, Mt. Broderick, Half Dome, the Quarter Domes and Clouds Rest as we got in a great workout.
Where: Yosemite National Park
Distance: 7.28 Miles
Difficulty: Moderate to Difficult
Elevational Range: 7,006′ to 7,842′
Date: March 4, 2019
Map: El Capitan Topographic Map
Dog Hike: No
When we left our houses, we had light rain and it looked pretty cloudy up higher on the mountain. The National Weather Service forecast had been updated overnight to show 20% rain and snow before 10 am, but we didn't expect this much rain as we headed out. We put our faith in our local weather forecasters and drove up to Yosemite Ski & Snowboard Area (Badger Pass), parking near the ski lodge. There sure was a lot more snow than the last time we were here in January.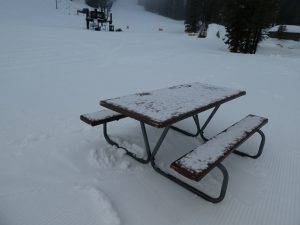 It was nice to see a little dusting of snow on those picnic benches because that meant we would have new snow on our adventure and we landed there to strap on our snowshoes.
The first part of this snowshoe hike is probably the hardest because you climb up alongside the east side of the "Eagle" chairlift, staying off to the very far side of those really nicely groomed slopes. That climb gained about 600 feet in elevation before the first 3/4 mile was done. I looked up toward the top of the hill and where I would need to climb to then started up. Were those clouds starting to clear or was it just my imagination?
And so we climbed up that hill.
I took a look back to where I had started my climb.
Once we made it to the top of the chair lift and ridge, we took a breather.  OK, we took several breathers coming up that hill but we took a real breather at the top.
There was plenty of snow, with that beautiful white snow still hanging in the trees. And take a look at that blue sky!
We looked out at the Merced Crest Trail and where we would be headed. No footprints, ski tracks or snowshoe tracks were in sight. We LOVE this kind of adventure!
Gail led the way on the Merced Crest Trail #16, following the yellow trail markers that are usually high up in the trees but this trip some of them were 2 to 3 feet above the top of the snow.
I took a look back.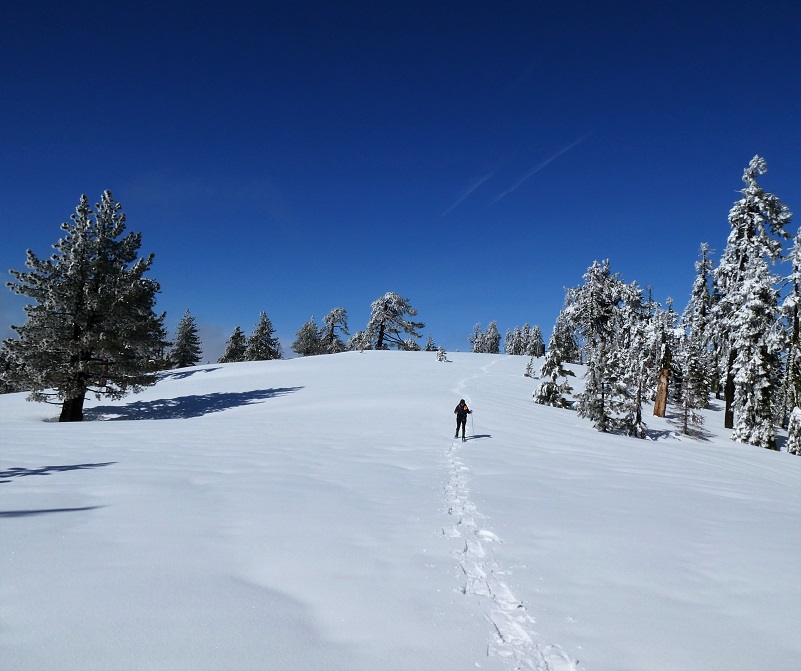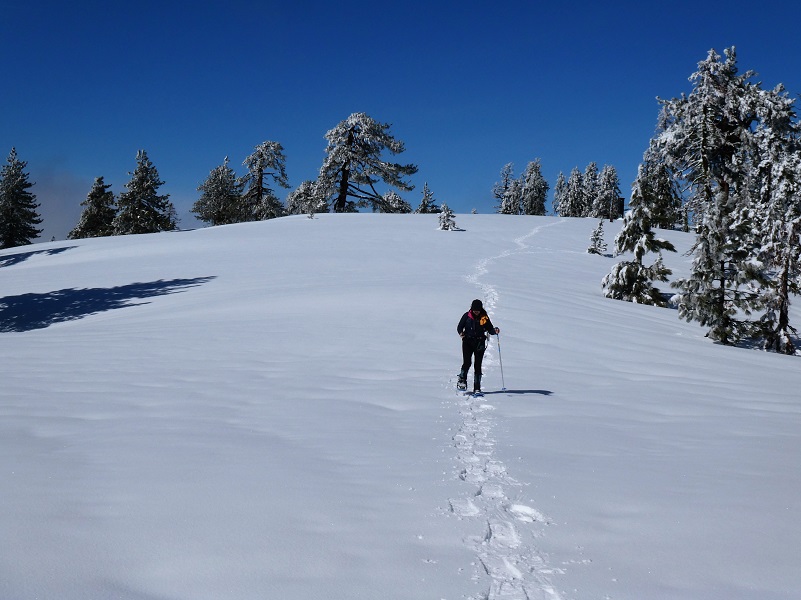 That bright blue sky contrasted so beautifully with the gorgeous white snow and sometimes we could make out fresh animal tracks such as deer, coyote and a few others that intersected our travels.  I think these might have been from a squirrel.
We continued on.
We saw all kind of beautiful views along the way of the high country.
And the views out to the valley with the lifting fog was even beautiful.
We caught glimpses of Half Dome and Clouds Rest.
And there was El Capitan.
The trail had led us along the crest, following up and down over 3 hills before we headed down to the intersection with the trail to Ostrander Lake. We didn't need to stand on our heads to interpret which direction we needed to go and headed toward the left on the Limit Trail #13 to Westfall Meadows, following the trail sign directions to Glacier Point Road and Badger Pass.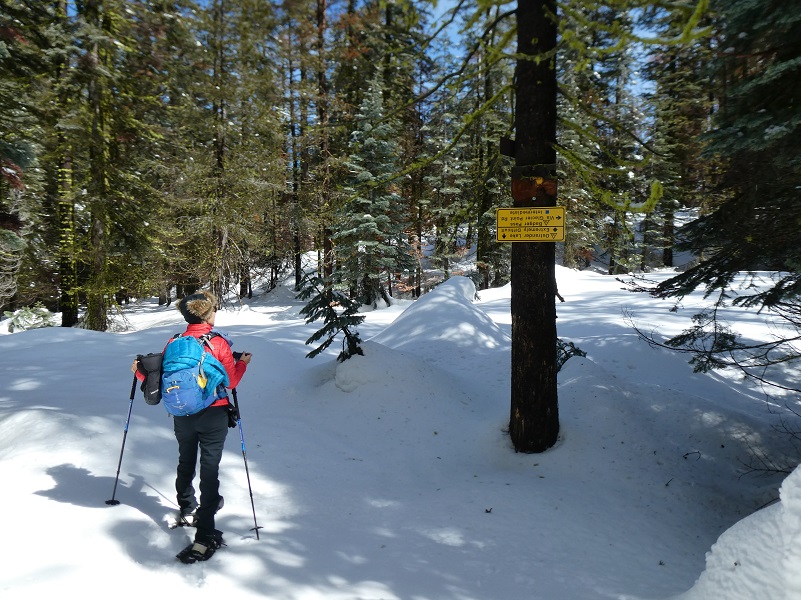 It wasn't long before we entered Westfall Meadows. My cousin Richard Slaughter reminded me that we were probably related to these Westfalls since they came out of an area in West Virginia where ours did. Well, I knew we had Westfalls tied in with our Slaughter line but when I had written several blogs about our local Westfall family, I never even pondered that we would be related to them. So, with my genealogy background and database that I had already put together on our related Westfall line, I had to figure out how I was related to them.
From earlier blogs, I had shared that The Yosemite Book states that Westfall Meadows is named after Eldridge Westfall, one of the first rangers in this area. I had previously discovered that his father, Sampson W. Westfall, patented 160 acres in sec. 26, T. 5 S., R. 21 E. in 1887 and that helped me to do some digging, finding the information below:
Name: Sampson Wesley Westfall
Born: September 28, 1851 Ritchie, West Virginia
Married: About 1883 to Alpha C. ?
Children: Ethel G. Westfall born 1881 Fresno Flats (now Oakhurst), CA and Eldridge Grant Westfall born 1890 Fresno Flats (now Oakhurst), CA
Parents: James Barnes Westfall and Martha Jane Zickafoose
Died: June 14, 1925 Mariposa, CA
Buried: Mariposa Masonic Cemetery
My cousin Richard put another cousin, Walter Westfall, in touch with me who shared his Westfall genealogy and I did some of my own digging. OK, are you ready to find out how I am related to Eldridge Westfall?  Here it goes: He is my first cousin 5x removed of husband of 5th great aunt! Of course Richard and Walter are closer related to him but it was still fun to find out.
When we reached the end of the meadow, we pulled up a great lunch spot with a view.
We usually head back to the ski resort via the Old Glacier Point Road, but decided to take a bit of a wider loop back to Glacier Point Road, then back to our car. The snow had started to soften a bit and we were happy to get back to Glacier Point Road but from the point when we got back to road, we still had 2 1/2 miles to get back to the car. That 2 1/2 miles was on packed snow on a road, so it was easier  in some ways.
It had been a while since we went out this way and our memories were not accurate on the mileage and difficulty compared between the two routes so when I got home, I compared the GPS information. Coming back via Old Glacier Point Road was about .30 miles shorter and 70 feet less elevational gain than going straight out the Limit Trail to Glacier Point Road.
If you are interested in snowshowing out of Yosemite Ski & Snowboard Area, they rent snowshoes and there are even guided snowshoe hikes. They are open through April 1, 2018 as conditions permit. You can also check out their webcam, along with the rental and snowshoe hikes and current conditions at the Yosemite Ski & Snowboard Area Page here.Yosemite National Park has some great information on how you can safely enjoy winter sports at the link at the end of the blog. You can also access a PDF of their Glacier Point Road Winter Trails brochure on this link, which includes a map of the trails in the area with safety information.
Dog Hike? No
Dogs are not allowed on this Trail.
Where Pets Are Not Allowed
On trails, including the trail to Vernal Fall (however, pets are allowed on the Wawona Meadow Loop)
On unplowed roads covered in snow
In undeveloped and wilderness areas
In public buildings
On shuttle buses
In lodging areas
In all walk-in and group campgrounds/campsites, including Camp 4
In any other areas, as signed
These regulations protect both pets and wildlife from disease and each other. The National Park Service has prohibited pets on trails for many years. In particular, some pets chase wildlife, pollute water sources, and can become defensive and dangerous in unfamiliar surroundings. Pet owners have the burden to assure their pet does not damage the park values for others in those areas where pets are allowed.
Yosemite Hospitality operates a dog kennel in Yosemite Valley from approximately late May through early September. Written proof of immunizations (rabies, distemper, parvo, and Bordetella) must be provided. Dogs must be at least 20 pounds (smaller dogs may be considered if you provide a small kennel). You can get more information about the kennel by calling 209/372-8326.
Map, Profile and Doarama:
Sources:
Yosemite Ski and Snowboard Area
Glacier Point Winter Trails Map
Prior Blogs in This Area:
Snowshoe the Merced Crest January 28, 2016
Merced Crest Snowshoe February 11, 2014