Now is the time you get to plan
Your meadow can be large or small or even in a container and the first step is to get the area as weed free as possible and raked smooth. My garden is in the Oakhurst area, just like you!
Meadow in early summer
Do this while you wait for your seeds to arrive in the mail. S & S Seeds is the source I've used for the last four years for my large 32 ft x 32 ft meadow. An alternative is to look for these seed varieties at a nursery in town:
In order of how long these reseed or rebloom in my garden:
Blue Flax (Perennial)

Yarrow (Perennial)

CA poppy (Perennial)

Black-eyed Susans (Perennial)

Baby Blue Eyes

Clarkia (Farewell to Spring)

Arroyo lupine

Five Spot

Globe Gilia

Tidy Tips
If marked (Perennial), this means the plants die down a bit but can be pruned and appear the next year. All are beautiful and well worth sowing and all come in S & S Seeds' CA Native Mix at $54 per pound.
Next step could take some time…you wait for the first Fall rain. Once you've weeded and raked your area and have your seeds and it has rained, sow your seeds as evenly as possible, stepping on them as you go. Have some children follow behind you to help step on the seeds. This will be fun and the seeds will not only get good soil contact, but be somewhat hidden from the birds. There's no need to rake or cover the seeds further.
Watering
No need to water but once every two weeks if the heat lasts and not at all if there is rain occasionally. I water once a week by hand in the hottest weeks of summer, July and August.
The last step is to wait and weed while the seeds appear and enjoy the Spring's bloom!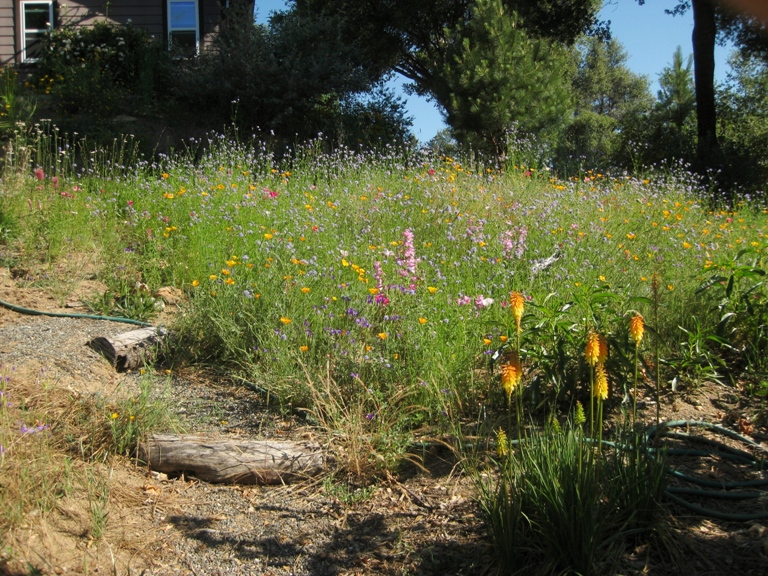 Meadow on a sunny day
Learn more about gardening in our area from Sue Langley at sierrafoothillgarden.com.