NORTH FORK — For the 37th year, the North Fork community will gather to celebrate its Citizen of the Year — someone chosen as being representative of the spirit of service and giving that defines this mountain village.
The dinner and celebration is set for Saturday, Feb. 27, at the North Fork Town Hall. Doors open at 5:30 p.m., with dinner at 6, and the new honoree announced at 7 p.m.
A hearty Mexican Fiesta Dinner is being prepared by last year's winner Janet Wheeler, assisted by her kitchen crew, with special margaritas served up by Julie and Dean at the Boosters bar.
Each year, residents are invited to send in their nominations, which are accepted by the North Fork Boosters between mid-December and mid-January. Anyone can submit a nomination, with a letter expounding the virtues and contributions of their candidate.
All past winners are then invited to participate in the selection of the new Citizen of the Year, gathering to vote for the nominee they feel is most worthy — never an easy task with such a stellar list of candidates.
This year's list is a long one, including several past nominees, demonstrating the deep level of community service by so many North Fork residents, and the appreciation of those submitting names for consideration.
The nominees for 2015 are (nominations are anonymous, and information and quotes are from the forms submitted to honor these folks):
Linda Gott-Maddox — Linda worked for many years at the North Fork School, continues to volunteer where needed, and is now employed at Ponderosa Telephone in customer care. She has donated countless hours to a host of local service organizations including the North Fork Volunteer Fire Department Auxiliary, the Grizzly Century Bike Run, MyTri, the Mid-Sierra Loggers Jamboree, The Chawanakee Educational Foundation and Relay for Life. She also somehow finds time to teach Sunday School and volunteer every Tuesday evening after work at the North Fork Library. Linda was also chosen for the Community Spirit Award in 2012 by the California Communications Association of Sacramento for her work at Ponderosa.
"Linda never receives anything but thanks for all the work she does. She is a very special kind of person."
Justin DeMasters  — Justin is always ready to lend a helping hand. He often volunteers at the Rec Center, fixing broken water pipes and helping with clean up and maintenance wherever needed. He winterizes the water system in the fall, and gets things flowing again in the spring, all free of charge. He gives not only of his time, but also donates money to many causes in North Fork including the Jamboree, the Children's Christmas Party and many other activities.
"Justin is a good, honest man and has been part of the North Fork community all his life, supporting the town any way he can."
Roger Robinette — Whenever there is an event going on in the area, Roger is there to capture it "on film." A talented photographer, Roger is always willing and able to be there, whether it's the Logger's Jamboree or a grade school play. He shares his photos on Facebook, with news organizations and with those who are the subject of his photographs. It is thanks to Roger that North Fork has a digital diary of the local happenings for the past many years, and he is always willing to share with anyone who asks.
"Roger is a great photographer, a generous human being, and just an all-around great guy."
Jen McMillan  — Jen is the owner of "Bandit Town" (formerly known as Old Town), and through lots of hard work, blood, sweat and tears, is bringing this abandoned landmark back to life. She is also breathing new life into the community with her various business ventures. Jenn makes Bandit Town available for community events such as Casino Night, which raises money for the North Fork School, and this year, the annual Chili Cookoff. The venue is perfect for weddings, family reunions or any social gathering.

"Instead of tearing it all down, she is restoring it. Jen is a very hard worker and a true asset to this town."
Tom Burdette — Tom contributes significantly to the community through his participation with the Community Development Council (CDC), the EMC SPCA and the North Fork History Group, along with his services as an umpire for Little League. He has been liaison and point man for the fire camps at the Old Mill Site, and his expertise in geology, water systems, soils, infrastructure and technical contracts has proven invaluable in the development of the mill site. He was instrumental in coordinating with the North Fork Rancheria in construction of the TANF building and the new Fire Station 11, and the coming bio-energy plant.
"Tom's quiet persistence and technical skills have helped lead the CDC to great success to help promote the social, economic and environmental welfare of North Fork and its citizens."
Don Grove — Some folks are born to service, and never hesitate to step up to the plate when a community need is recognized. Over the years, Don has supported the organizations with encouragement, funds, and his presence. He delights in combining his passion for photography with preserving the mountain history, and has taken on both a membership and leadership role with the North Fork History Group. His current passion is promoting his vision for "A Village of Four Seasons," bringing together all the local events and creating a destination weekend four times a year.
"Age doesn't see to be a factor in dampening Don's enthusiasm for the town he has come to love, and nothing dampens his spirit in his progressive plans."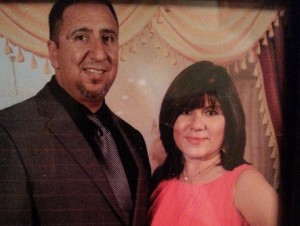 Chris & Dee Salazar — Chris and Dee are integral to the workings of the North Fork Chamber of Commerce. Dee initiated a scholarship fund and organizes fundraisers for the project. She was instrumental in the formation of the new Visitors Center, volunteering at the center and working with the County to create and install new signage to direct travelers from Highway 41 to North Fork. She is now serving as president of the Chamber. Chris has donated his time to install lighting in front of the Visitors Center, set up equipment inside for use by local clubs and organizations, assist with downtown cleanup before special events, provided free electrical and other services at Bandit Town, and he serves as treasurer of the Chamber.
"They are such a strong part of the fabric of North Fork. It's hard to imagine so many projects downtown moving forward without their hard work and dedication to the community."
Russell Walsh — Russell's quick thinking and determination during the Corrine Fire last year is credited with helping to stop the spread of the fire as it spotted east and ran toward Road 225, saving the home of Freida Good and likely others, including Schlichtings, Grandma Elaine Fink, the Sturms, the Bordens, the Crills and many other properties. Russell used his own equipment to cut firelines which aided in stopping the fire. Russell has been a member of the North Fork Community for 35 years.
"He is always willing to help someone in need, whether it's a car accident, a neighbor with a broken piece of equipment, or a tree brought down by a storm."
Angel Killian & Jason Neville — Angel, owner of the Center for Harmony, has provided her time, money and expertise in creating fliers and banners for the Chamber of Commerce and The Studio. She has also worked tirelessly on fundraising campaigns to keep the doors open at both venues, and publishes the North Fork Buzz Saw. Jason often makes his crew from Sierra Pest Control available for town cleanups and other projects, including putting the lights on the town Christmas tree, doing weedeating along the main street, and providing manpower and equipment to install and take down the holiday decorations downtown.
"Both Angel and Jason are always going the extra mile and don't hesitate to step up when there is a need. Often they don't even have to be asked, they just volunteer their time and their resources."
Rah & Sarah Rah — Rah and Sarah have helped the North Fork community in countless ways since moving to town in the early 2000s. Sarah's name pops up quite often in connection with the CDC and The Studio, and Rah is always on hand when things need to be built, moved or nailed down. Sarah is credited with saving the North Fork Arts Council from litigation and assisting them in transferring their 501c3, and also working to raise money for the North Fork Volunteer Fire Department Auxiliary.
"When they were ready to relocate, Sarah researched towns where there was a sense of community. She chose North Fork as a place where she and Rah could contribute to that community."
Al & Robyn Flory — Al and Robyn have been active in the community for many years. Every year they put in long hours hosting the beer booth at the Loggers Jamboree, arguably the biggest source of revenue for the event. Al is always on-hand to help wherever he is needed, makes a mean batch of popcorn, and is locally famous for his tri-tip. Robyn has participated both onstage and behind the scenes at Squirrel Cage Theatre Co. shows for decades, and sings in the local group Sugar Pine. She has been a big part of the lives of North Fork students as a Fine Arts Specialist, teaching theater and music, which she still does even after her retirement.
"My boys are now 25 and 28 years old, and had the benefit of Robyn's guidance in theater arts. I am very sure she has done the same for countless North Fork children."
There was another couple nominated this year, but though they are honored to be recognized, they chose anonymity.
Everyone is invited to come out and enjoy an evening of fellowship with friends and neighbors, and honor this outstanding group of citizens. Cost for the dinner is $10, with presale tickets available at the Buckhorn Saloon and North Fork Hardware. The event is sponsored by the North Fork Boosters.
Past winners of Citizen of the Year:
1979 Marilyn Coelho
1980 Grant Sturm
1981 Paul Barnes
1982 Jim Zizzo
1983 Bob Quick
1984 Tom Wheeler
1985 Betty Lyons
1986 Blaine Shultz
1987 Tom Hebrard
1988 Charles Coelho
1989 Tal Carter
1990 Jim and Dot Morris
1991 Elaine C. Fink
1992 Beverly Cole
1993 Paul Vining
1994 Tom Digilio
1995 Charles Harrington
1996 Lloree Knowles
1997 Mary Myers
1998 Frank Verduzco
1999 Mark and Cindy Swarts
2000 Chris Stanley
2001 Cathey Thornburg
2002 Loretta McKee
2003 Tammy Armstrong
2004 Kirk and Alice Koda
2005 Volney Dunavan
2006 Bill and Gretchen Choate
2007 Augie and Cindy Capuchino
2008 Viola Carr
2009 Dave Smith
2010 Joan Constable (aka Connie Carpenter)
2011 Vincent and Ginny Smith
2012 Hansel Kern
2013 Mark Logee
2014 Janet Wheeler