OAKHURST — The long wait is almost over.
Nearly a decade in the planning and construction, the first of Oakhurst's three new hotels appears poised to open — and local business leaders, county officials and mountain area residents couldn't be more excited.
"We've been waiting so long for these new hotels to come on online," said one business owner this week. "Seeing the signs go up and the construction about done is such a relief. I was wondering if that project was ever going to end."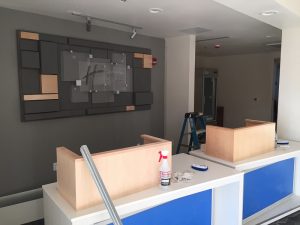 Workers this week were putting the finishing touches on the interior of the Holiday Inn Express, although there is still no word from the project's builder about when the new 108-room hotel will officially open.
"When it's going to open, everybody will know," Paul Patel, the project developer, told SNO earlier this year.
Patel has declined on multiple occasions to answer SNO's questions about the status of the project. "This is not a news story," he said in July. "There are more important things for the news to report on."
But for years, the side-by-side-by-side hotels slowly going up along Highway 41 have been a very popular topic of conversation around Oakhurst.
The three new hotels — a Holiday Inn Express, Hampton Inn and Fairfield Inn by Marriott — will each have 108 guest rooms. Although the Hampton and Fairfield properties are still under construction, when fully operational, the businesses are expected to add between $1.5 and $2 million a year to the County's Transient Occupancy Tax (TOT) revenue stream.
The hotels will also create at least 100 new local jobs.
"We're doing everything we can to work with the developer," Eric Fleming, Madera County's chief administrative officer, told SNO earlier this summer. "We're as anxious as anyone to get this done and see those TOT revenues start coming in."
A temporary agreement between the County and Patel will allow the developer to connect the northernmost of the three hotels, the Holiday Inn Express, to the existing sewer line until work can be completed on a new, upgraded sewer line project to be installed along Highway 41.
Patel's ambitious project has encountered a series of setbacks over the years.
County officials continue to meet with the developer and Cal Trans to determine how best to move forward with the sewer connection work and other infrastructure improvements necessary for the two other hotels to open.