Dewey Point is famous for spectacular views of Yosemite's high country but who knew we would see Merced River Canyon poppies from the trail while snowshoeing? We enjoyed one last showshoe hurrah before winter access to Badger Pass Ski Area closed for the season.
Where: Yosemite National Park
Distance: 7.41 Miles
Difficulty: Moderate
Elevational Range: 7,233′ to 7,570′
Date: March 29, 2021
CALTOPO: Badger Pass Looped Snowshoe to Dewey Point
Dog Hike: No
Glacier Point Road access to Badger Pass Ski Area was still open so we headed on up to take advantage of the snow and trails before it was closed for the season (latest update for closure as of this writing is April 4, 5 pm). Just shy of the ski lodge, we then turned left and parked at their lot up near the trailhead. It was about 34 degrees when we got out of the car, put on our snowshoes and off we went. The "trail" follows snow covered Glacier Point Road for a while and normally it is groomed with tracks for cross country skiers that we stay out of, but no grooming this year. The snow was crunchy with a spare posthole every once in a while left by prior boots in the spring snow.
As we approached Summit Meadow, where a bathroom is located, we decided to head out the Meadow Route because it would be more melty in the afternoon and would probably have more people on it. There are a couple of routes to snowshoe into Dewey Point. The Ridge Route #14, a little shorter but steeper, intersects Glacier Point Road just west of Summit Meadow and the Meadow Route #18 intersects Glacier Point Road just east of Summit Meadow. More information on the winter trails is at the end of the blog.
We soon reached a beautiful meadow.
A new attraction on the Meadow Route this year is the Teeter Totter Tree. It seems like a miracle that this fallen tree is perfectly balanced on a stump.
We continued on the trail that led us through the trees.
As we got closer to Dewey Point, our eyes were immediately drawn to the snow covered higher mountains.
Then it wasn't long before we reached Dewey Point. I just love the views from Dewey Point looking up Tenaya Canyon and into the high country.
Dewey Point is named after Admiral George Dewey of the Spanish American War. He is best known for his victory at the Battle of Manila Bay during the Spanish-American War. He was also the only person in the history of the United States to have attained the rank of Admiral of the Navy, the most senior rank in the United States Navy.
The Library of Congress has a short biography of him located at the website listed in Sources at the bottom of the blog.
George Dewey was born on December 26, 1837 in Montpelier, Vermont. Upon his graduation from the Naval Academy in 1857, he was commissioned as a lieutenant in 1861. During the Civil War he served with Admiral Farragut during the Battle of New Orleans and as part of the Atlantic blockade. From 1871 until 1896, Dewey held a variety of positions in the Navy. In 1897 he was named commander of the Asiatic Squadron, thanks to the help of strong political allies, including Assistant Secretary of the Navy, Theodore Roosevelt.
Roosevelt's help was also essential in supplying Dewey with guns, ammunition, and other needed supplies so that his fleet would be prepared if war broke out with Spain. An aggressive commander, Dewey ignored China's neutrality and took on coal for his fleet at Mirs Bay. He was forced to leave Hong Kong on April 25, but not before the U.S.S. Baltimore had arrived from Honolulu with needed ammunition.
Thus prepared for battle, Dewey launched his attack, through mined waters and firing shore batteries, on Admiral Patricio Montojo's slow, outmoded, under-supplied Spanish squadron at Cavite in Manila Bay. On May 1, he engaged the Spanish forces and demolished them, inflicting very heavy casualties. His troops occupied the bay and Manila itself alone until General Wesley Merritt's soldiers arrived in August.
News of the victory in the Battle of Manila Bay reached President McKinley on May 7 and soon Dewey became a national hero. Congress awarded him a promotion to real admiral and handed out citations to members of his fleet. Although he thought about running for president, he settled for writing accounts of his famous victory and publishing his autobiography in 1913.
The view from Dewey Point is gorgeous. You can look up Tenaya Canyon and see the snow coated higher country such as Clouds Rest and way up toward Tenaya Peak and beyond.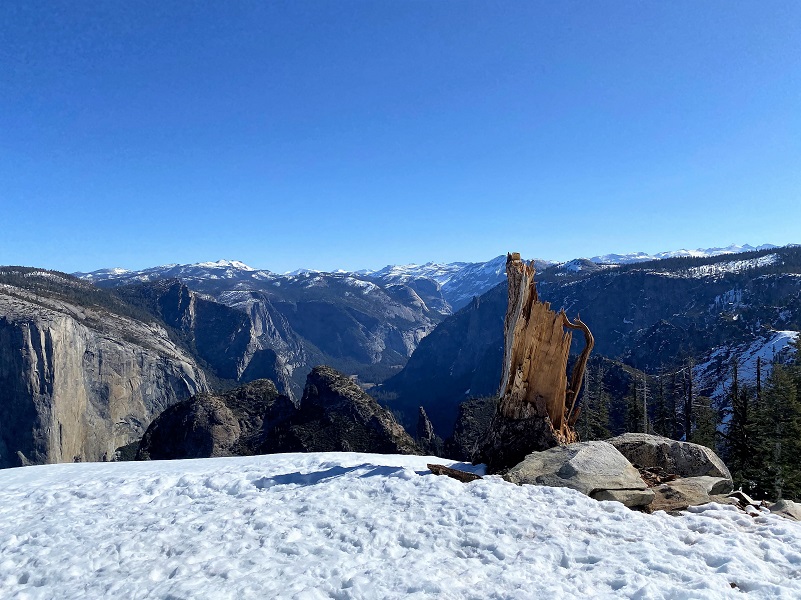 We had made good time and it was only 10, so we stopped for a snack break and watched those views for a while.
We headed back via the Ridge Route to make a looped snowshoe. Shortly after we started up this trail, there is a little area where you can look back and get a glimpse of Yosemite Falls. Can you see it?
We continued on to where the trail reached an open overlook area. As Gail looked closer, she told me that she could spot the golden poppies in the Merced River Canyon. I took a bearing with my phone to try and pinpoint the exact area when I got home and later figured out that it is under the Grizzley Peak areas and a little west of Trumbull Peak. That is 13 miles away as the crow flies!
When we reached Glacier Point Road at Summit Meadow, there were a few more people heading out on the trail. Most were walking but some were skiing and one was pulling a child on a sled.
If you check out the Glacier Point Winter Trails handout, it has a great trail map but also descriptions of the trails. Below is the information from that handout on the trails from Badger Pass to Dewey Point.
In the years before COVID, if you were interested in snowshoeing out of Yosemite Ski & Snowboard Area, they rent snowshoes and there are even guided snowshoe hikes. They are open through April 1, 2018 as conditions permit. Maybe next year will go back to this. You can also check out their webcam, along with the rental and snowshoe hikes and current conditions at the Yosemite Ski & Snowboard Area Page here. Yosemite National Park has some great information on how you can safely enjoy winter sports at the link at the end of the blog. You can also access a PDF of their Glacier Point Road Winter Trails brochure on this link, which includes a map of the trails in the area with safety information.
Dog Hike? No
Dogs are not allowed on this Trail.
Where Pets Are Not Allowed
On trails, including the trail to Vernal Fall (however, pets are allowed on the Wawona Meadow Loop)
On unplowed roads covered in snow
In undeveloped and wilderness areas
In public buildings
On shuttle buses
In lodging areas
In all walk-in and group campgrounds/campsites, including Camp 4
In any other areas, as signed
These regulations protect both pets and wildlife from disease and each other. The National Park Service has prohibited pets on trails for many years. In particular, some pets chase wildlife, pollute water sources, and can become defensive and dangerous in unfamiliar surroundings. Pet owners have the burden to assure their pet does not damage the park values for others in those areas where pets are allowed.
Doarama:
What is a Doarama?  It is a video playback of the GPS track overlaid on a 3 dimensional interactive map. If you "grab" the map, you can tilt it or spin it and look at it from different viewing angles. With the rabbit and turtle buttons, you can also speed it up, slow it down or pause it.
Snowshoe Dewey Point Loop Doarama
Map and Profile:
CALTOPO has some free options for mapping and here is a link to my hike this week overlayed on the 1883 Topographic Map: CALTOPO: Badger Pass Looped Snowshoe to Dewey Point
Prior Blogs in the Area:
Snowshoeing From Badger Pass to Dewey Point December 16, 2019
Snowshoeing to Dewey Point during the Government Shutdown January 8, 2019
Snowshoeing to Dewey Point December 20, 2018
Snowshoeing to Dewey Point March 12, 2018
Snowshoeing from Chinquapin to Monroe Meadow aka Badger Pass aka Yosemite Ski & Snowboard Area March 7, 2018
Hiking from Tunnel View to Dewey Point January 12, 2018
Snowshoeing from Chinquapin to Monroe Meadows November 30, 2016
Snowshoe to Dewey Point . . . Again December 30, 2015
Dewey Point Snowshoe Hike February 17, 2014
Tunnel View To Dewey Point Hike January 8, 2014
Snowshoe to Dewey Point January 22, 2013
Sources:
Glacier Point Road Winter Trails
Autobiography of George Dewey 1916
Admiral George Dewey Library of Congress
http://www.yosemite.ca.us/library/yosemite_valley_place_names/#s
Hartesveldt, Richard J. Yosemite Valley Place Names. 1955
http://en.wikipedia.org/wiki/George_Dewey