OAKHURST – It was a poignant but exciting day for Bob and Ruth Hillyard at the 'Ol Kettle Restaurant in Oakhurst today. Old friends and loyal customers gathered to say goodbye to what has been a mainstay of the community for almost 30 years.
Bob and Ruth have run this family business since 1985 when they opened the Kettle at their first location, in what was then the Holliday Village, where Rite Aid is now located.
The 'Ol Kettle moved to its current location in 1989, where the family has been serving up their own brand of personal service and home-style fare, and working seven days a week ever since.

Now, they will have time to slow down just a little, enjoy their kids and grandkids, and take a bit of time to reflect and relax.

But Ruth isn't quite ready to call it quits just yet. She will be greeting friends old and new when she starts her new, albeit part-time job, at the Forks Restaurant at Bass Lake. Ruth says she'll be working there, and Bob says he'll be eating there.

All four of the Hillyard children have worked at the 'Ol Kettle growing up, and they claim the distinction of being the longest single-family owned restaurant in Oakhurst. Now that era has come to a close, and Denny's will be moving in.
Dave Wolin, long-time patron and chairman of several committees who have met at the Kettle over the years, said it was the end of an era.

"Not bad, just different," said Wolin. "Chain restaurants are replacing Mom and Pops, and Bob and Ruth exemplify the old time family business. They will be missed."
Howard Akin, owner of Mountain Milk and Cream, lamented the loss of a good customer, while State Farm agent Marilyn Rigg recalled the Hillyard's days at Holliday Village, and was sad that "another tradition is gone."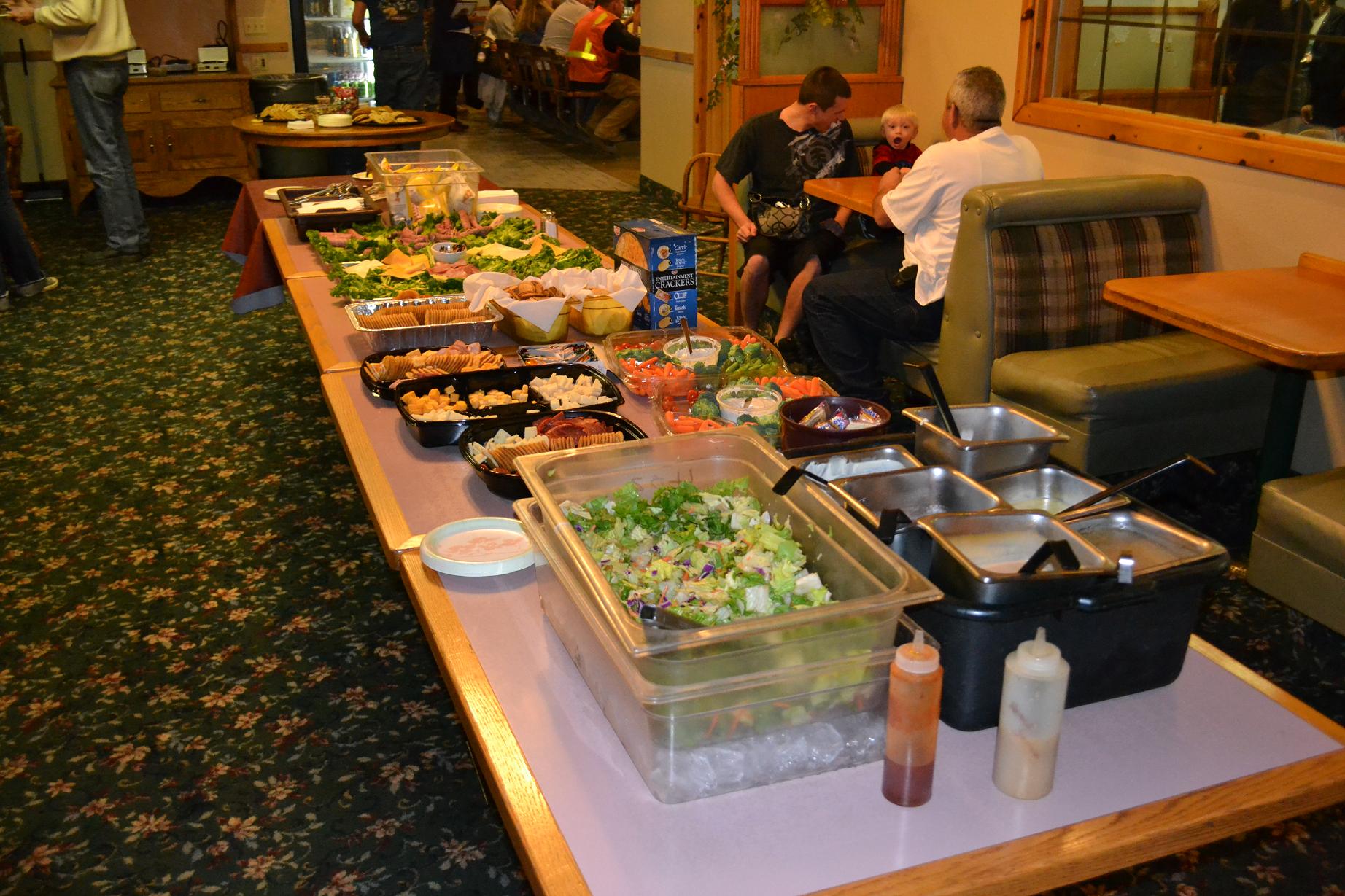 Employees at the 'Ol Kettle said their last day was very busy, all through the breakfast and lunch. Then at about 5 p.m., folks started pouring in to share this last day at the Kettle with the Hillyards. The family laid out a spread for everyone to share, and took the opportunity to thank their loyal customers and friends. And Ruth was busy giving things away.

Shirts, gallons of salad dressing, salt and pepper shakers and menus. "It's okay, just take it home with you. We're done," said Ruth, who was just bursting with energy and the excitement of the next phase of their lives. She plans to spend the weekend watching her grand-baby, while daughter Marnie and her husband enjoy a weekend in Tahoe.

The cash register and the "Please Wait To Be Seated" sign were sold to a business down the street, and the last bags of pull tabs sat bagged and ready for donation to the Ronald McDonald House.
The one thing left that Bob really didn't want to have to move, was the 1896 Fosters stove that sits just inside the front door. It's a beautiful old piece, and anyone interested in acquiring it is welcome to give Bob a call.

As guests made their way out at the end of the evening, there were hugs and kisses all around, and best wishes for the Hillyards as they embark on this new phase of their lives.

Ruth assured friends and customers that they aren't going anywhere, and would see everyone around town.

"We're going to close at the end of the day, as soon as everyone leaves," said Ruth. "Then we're going to lock the doors and go home."

But Bob and Ruth won't be kicking back and relaxing just yet. The family will be back in the morning to tackle the huge job of a major cleaning, preparing for the new owners.

When asked if he was going to take a day off and watch the Super Bowl on Sunday, Bob said that wasn't going to happen.
"We'll be doing a walk-through on Sunday with the new owners," said Bob. "Besides, I'm a Cowboys fan, and they're not playing. I'll be watching the 'kitchen bowl'."

Denny's will be opening in this location in May. Read Bob and Ruth's letter to the community here.