Stevenson Creek Falls had really been coming down the week before but would it still be roaring when I was able to see it a week later? You betcha!
Where: Sierra National Forest
Distance: 7.25 Miles
Difficulty: Moderate
Elevation Range: 1,182′ to 1,914′
Date: May 29, 2019
Maps: Auberry Topographic Quad, Sierra National Forest
Dog Hike? Maybe
We headed out from North Fork, drove down Road 225, but we had a small delay due to a traffic jam.
Once the rush hour traffic cleared out, we continued on, crossing the bridge over Redinger Lake, then we wound our way a couple of miles past the old Chawanakee School to where the gate crosses the road. We parked in a small turnout nearby, making sure we weren't blocking any traffic then walked around the gate and up the paved road.
A beautiful group of Chinese Houses were in full bloom right next to the gate.
Several vehicles were heading out and the lead pickup slowed down to talk with us.  He shared with us the Stevenson Creek Falls was flowing strong and that he had just driven through the falls on the bridge and snapped a picture. Boy, were we excited because that is exactly what we were hoping for!
We crossed the metal grid bridge over Jose Creek. If you are hiking with a dog, you will need to carry your dog over this bridge, just a heads up. More about hiking this one with a dog toward the end.
We were treated to many colorful flowers along the road.
As the road climbed, we looked back at Redinger Lake and Powerhouse #3.
When the Big Creek Hydroelectric Project was built, its primary purpose was to provide electrical power for the city of Los Angeles. California engineer John S. Eastwood was the principal designer of the system, which was initially funded and built by Henry E. Huntington's Pacific Light and Power Company (PL&P).
Construction of the system's facilities started in 1911, and the first power was transmitted to Los Angeles in 1913. After Southern California Edison (SCE) acquired PL&P in 1917, the system was gradually expanded to its present size, with the last powerhouse coming on line in 1987. Today, these facilities include 27 dams, miles of underground tunnels, and 24 generating units in nine powerhouses with a total installed capacity of more than 1,000 megawatts. Its six major reservoirs have a combined storage capacity of more than 560,000 acre feet.
Today, the Big Creek project generates nearly 4 billion kilowatt hours per year – about 90 percent of SCE's total hydroelectric power, or about 20 percent of SCE's total generating capacity. Big Creek accounts for 12 percent of all the hydroelectric power produced in California. The Big Creek reservoirs also provide irrigation and flood control benefits for the Central Valley, and are popular recreation areas. There are negatives though. Fish and animal migration have been disrupted and historical sites and traditional Native American lands have been flooded.
It wasn't long before we were out of sight of Redinger Lake.
California Buckeye were in full bloom.
A few Mariposa Lilies blooming. I really like these flowers, something about how delicate they are and the unique coloring at the base of the flower.
Golden yarrow (Eriophyllum confertiflorum), which I learned is in the Sunflower Family, thanks to Joanna Clines, Botonist with the Sierra National Forest.
And all kinds of color combinations created different spring bouquets along the way.
Succulents along the road were blooming
Bright colors of a Flannel Bush caught our eye along the road.
There were a few paintbrush blooming with their fluorescent orange colors.
Ithuriel Spear or Wally Basket, a member of the Brodeia Family, was finishing up blooming but I think it still looked very pretty.
Viewing Stevenson Creek Falls is kind of like a curtain unveiling for an event because you can't see it until you come around that last bend, but you sure can hear it from a ways off.
Stevenson Creek is incorporated into a hydroelectric project at Shaver Lake and as a result does not flow with the consistency that it once did. Before being regulated, the booming stream created what was perhaps the 3rd best waterfall in California – and even now with its inconsistent flow is still among the 10 best waterfalls in the state. The falls hurtle around 1,200 feet in four primary leaps of approximately 380, 260, 250 and 180 feet respectively, with multiple smaller slides and cascades in between each drop. With the regulation of the stream in place the falls run dry through most of the summer, but during the spring months the creek still swells to considerable size and creates a monstrous cataract as it thunders into the San Joaquin River canyon – during which time the Million Dollar Road, used to access the falls, is often closed at the bridge which crosses the falls because the falling water can actually fall directly onto the bridge.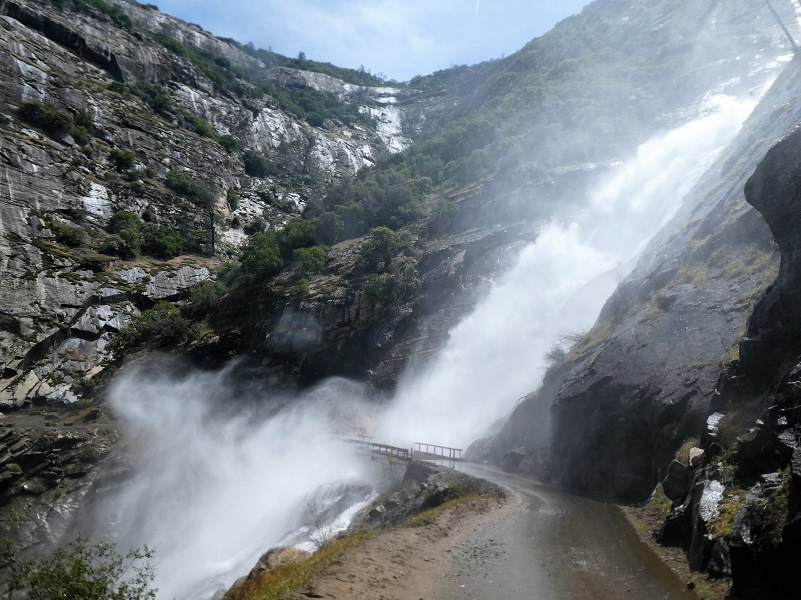 Pictures just do not do the roar and power of Stevenson Creek Falls justice. Luckily, Gail Gilbert took a really nice video that you can view here. The view of the falls was a perfect spot for us to stop for lunch.
After lunch, we headed back to our cars but when the falls are not flowing strongly, we have continued on up to Big Creek Dam 6 which is about 3 more miles up the road. Sometimes we have gone a little past the falls where we can get a great view of almost the entire falls and have lunch there. There are many options on how you would like to hike or bike this road. You also want to pay attention while you are walking because vehicles and bikes can come around blind corners quickly and take you by surprise.
Dog Hike?
This hike could potentially be a good hike to take with your dog, if they are the type of dog that stays with you on the road. In addition to needing to carry your dog over the steel grid bridges, there are some steep drop-offs on this road. You can ask Deb how much fun she had carrying 65 pound Raven over the bridge a few years ago. My Sally dog would want to chase squirrels and I am afraid that Sally would dive off there while chasing some critter and hurt herself. This is also rattlesnake haven. There is only one fairly good watering spot at Mill Creek, so you would need to pack water for your dog. The hike is entirely paved and this can be tough on a dog's paw pads if they aren't toughened up to this type of use. That pavement can also be very hot in the summer.
Doarama:
What is a Doarama?  It is a video playback of the GPS track overlaid on a 3 dimensional interactive map. If you "grab" the map, you can tilt it or spin it and look at it from different viewing angles. With the rabbit and turtle buttons, you can also speed it up, slow it down or pause it.
Maps and Profile:
Sources:
Big Creek Hydroelectric Project Wikipedia
Prior Blogs in the Area:
Hiking from Redinger Lake along the North Side of the San Joaquin River across from Stevenson Falls February 21, 2018
Hiking to Stevenson Fall through Recent Road Washouts February 13, 2017
Stevenson Falls Hike February 25, 2015
Stevenson Falls Hike February 25, 2014
Stevenson Falls Hike February 27, 2013