A little early for wildflowers and plenty of down trees were across this historic trail but my hike was rewarded with a lovely waterfall, pretty views along the way and a good workout.
Where: Yosemite National Park
Distance: 12.12 Miles
Difficulty: Moderate
Elevation Range: 4,037′ – 5,841′
Elevation Gain: 2,252′
Date: April 20, 2022
CALTOPO: Alder Creek Falls Hike
Dog Hike? No
I headed to Wawona through Yosemite National Park's south entrance, turning right on Chilnualna Falls Road, then drove about a ½ mile toward the parking lot for the Trailhead, a small turnout on the right hand side with a bear box but that parking area wasn't available on this hike. They are using it for tree removal and other activities right now. I continued down the road a smidge to a wide turnout along the road, across from the road that goes to the Wastewater Treatment Facility. There are a couple of other small pullouts in this area with fire hydrants and if you park there, make sure you aren't blocking the hydrants.
I hit the trail a little before 8, walked across the street where a use trail parallels the road, turned left until it met up with the trail that starts across from the Trailhead, leading toward Deer Camp and Bridalveil.
There were a few down trees across the trail, about 50 of them, but nothing that couldn't be stepped over, ducked under or crawled over. There are several reasons why these trees fell. Drought weakened many, bugs got some and winds were able to take these and others down.
Most of the trail was free of debris though and a pretty walk uphill.
And then there were more down trees.
Some vegetation grew over the trail in a few spots.
And some wonderful views were seen along the way.
It was a little early for wildflowers but a few were up for the challenge.
And then there were more down trees.
There are a few different types of lupine that grow in this area. Even though they weren't blooming yet, I was able to see many Harlequin lupines, which is one of my favorite wildflowers in this area. They just look like a happy flower and bring a smile to my face. They are bright yellow and pink and each flower is different. Some have more yellow, some have more purple and some are a mixed up combination of pinks, purples and yellow. But even though they weren't blooming, they still look happy and different from the purple lupine (Brewer's lupine or Gray's lupine) that we often see. To me, the leaves of Harlequin lupine look like clown hands. See what I mean? Its scientific name is Lupinus stiversii and it was named for Army physician Dr. Charles Austin Stivers, who first collected it in 1862 near Yosemite. Harlequin lupine are endemic to California, only found naturally in the Sierra Nevada and its foothills and above Los Angeles and the Santa Lucia Mountains of Monterey County.
I feel like I should apologize for showing so many down tree pictures but if you are going to hike this trail, I want you to see what you are in for. It is not for everyone.
About half way into the hike, the trail split. This is the junction of the trail that goes down to Wawona Road at Mosquito Creek, another option for you to hike up to Alder Creek Falls. It is .6 miles from that Trailhead up to this split, compared to about 2.9 miles from where I started up. I don't know what the down tree situation is on that part of the trail but one of the plus sides of hiking up from where I did is the views.
One of the reason that I like hiking up the way that I came instead of from Wawona Road is that it follows a historic trail that shows up on the old Topographic Maps dating back to 1885-1915 or so. My GPS track is the purple line but you can see the old trail paralleling my track. The old trail led up to Peregoy Meadow, Ostrander Rocks and came out near the Sentinel Dome Trailhead area. Today's trail system in this area can take you on a longer hike or backpack up to Bridalveil Campground, Ostrander Lake or Glacier Point and beyond.
A few more trees to get over.
And a few more beautiful views.
I only saw one tiny snowplant working its way out of the ground but more will be coming out. They are a parasitic plant that obtains its sustenance and nutrients from mycorrhizal fungi that attach to roots of trees. They don't have chlorophyll and unable to photosynthesize. Ectomycorrhizal (EM) symbioses involve a mutualism between a plant root and a fungus; the plant provides fixed carbon to the fungus and in return, the fungus provides mineral nutrients, water and protection from pathogens to the plant. The snow plant takes advantage of this mutualism by tapping into the network and stealing sugars from the photosynthetic partner by way of the fungus. This form of parasitism is known as mycoheterotrophy.
A few more trees across the trail to leap over.
And a couple of small creeks to hop across.
The trail met and continued up the old railroad bed that the Yosemite Lumber Company, renamed the Yosemite Sugar Pine Lumber Company in 1934, utilized. It was almost like I was walking back in time while I walked along this gentle grade. I could see remnants of the old railroad bed that included railroad ties and rails.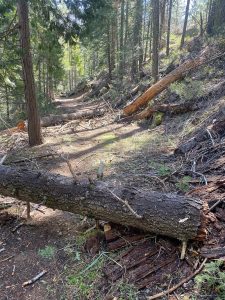 Only a few more down trees to go.
I made it to a spot where I could look down at Alder Creek Falls, which the World of Waterfalls says drops 100 to 150 feet. With all of the water rushing over the edge, I could see that it had at least two sets of falls. It was very pretty.
I didn't venture much farther up the trail, just past a wet area but on past hikes, we have gone farther. If you decide to go farther and look closely, you pick out remnants of footprints that people left during the logging and railroad eras. We have also pulled up a nice sunny spot to watch Alder Creek roar by and eat a snack. But it was early in the day and I headed back, finding a spot along the trail with a view of the Chowchilla Mountains to eat my lunch.
My hike was mosquito and gnat free because of the cooler weather and a little breeze but as it warms up, that is not always the situation. I think spring is the best time to do this hike because the wildflowers can be so beautiful. Another reason to do this hike in spring and preferably not a hot day is because there is a stretch of trail toward the bottom that is out in the open and can be darn hot.
Dog Hike? No, dogs are not allowed on this trail in Yosemite National Park.
Doarama:
What is a Doarama?  It is a video playback of the GPS track overlaid on a 3 dimensional interactive map. If you "grab" the map, you can tilt it or spin it and look at it from different viewing angles. With the rabbit and turtle buttons, you can also speed it up, slow it down or pause it.
Map and Profile:
CALTOPO has some free options for mapping and here is a link to my hike this week:  CALTOPO: Alder Creek Falls Hike
Sources:

http://en.wikipedia.org/wiki/Lupinus_stiversii
http://www.yosemitehikes.com/wildflowers/red-orange-flowers.htm
http://yosemitevalleyrailroad.com/LOGGING.COMPANIES/YLumber.Cards2.html
http://www.yosemitehikes.com/wildflowers/snow-plant/snow-plant.htm
Alder Creek Falls World of Waterfalls
Prior Blogs on This Area:
Hiking to Alder Creek Falls May 19, 2017
Hiking up to Alder Creek Falls May 17, 2016
Alder Creek Falls Hike 2015 May 22, 2015
Alder Creek Falls Hike May 25, 2014
Alder Creek Falls (And Beyond) Hike May 9, 2013