Glacier Point Road had only been open one day and those Yosemite waterfalls were really roaring. We headed to Glacier Point on the Panorama Trail to see 4 of Yosemite National Park's major waterfalls doing their thing.
Where: Yosemite National Park
Distance: 11.8 Miles
Difficulty: Moderate
Elevation Range: 5,882′ to 7,278′
Date: April 20, 2016
Maps: El Capitan Topographic Quads
We headed up Highway 41 through the South Entrance to Yosemite near Mariposa Grove, then to Glacier Point Road, driving to the end of that road and parking in the large parking lot. Walking out to the trailhead, we were treated to that wonderful huge view of Half Dome and the snow covered peaks of the high country.
As we headed down the trail, we were welcomed back by a couple of locals which I assume were part of an organized greeting party. This bird was really singing its heart out, never stopped as we stopped right next to it.
We hadn't gone too far down the trail before this grouse walked right in front of me across the trail, then put on a show for us and calling for a mate. Throughout the hike, we continued hearing that love song of the grouse.
We encountered one larger down tree across the trail that we climbed over, along with several smaller trees that we could easily walk across.
We checked out Illilouette Fall when we reached a viewpoint along the trail. It is said to have a drop of about 370 feet and is fed by Illilouette Creek. The waterfall was called  Tululowehack in the California Geological Report in 1870, supposedly an Indian name. They pronounced it Too-lool-a-we-ack or Too-lool-we-ack and was inpreted as "the place beyond which was the great rendezvous of the Yos-Semite Indians for hunting deer." The name was a dificult one for people to pronounce and the name of Illilouette started showing up as early as a 1896 map. The name of Illilouette Ridge was recommended in 1907 and the gorge was first named on the fourth edition of the USGS map of the valley in 1927.
The creeks and rivers that make these waterfalls spectacular are very dangerous waters. Every year people venture too close or even into these waters and are swept away in a split second. Signs warning of the danger are there but people still ignore them. Please, don't become a news article by venturing too close to these falls. If you fall in, it will most likely result in a recovery and not a rescue.
As we headed on up the trail to Nevada Falls, we could glimpse several amazing views of Yosemite Falls, the highest of the waterfalls in Yosemite National Park, with a drop of 2,425 feet over three sections. Yosemite Creek flows over the Upper Yosemite Fall, dropping 1,420 feet. There are then 5 smaller plunges called the Middle Cascades, together dropping 675 feet. Lower Yosemite Fall drops 320 feet.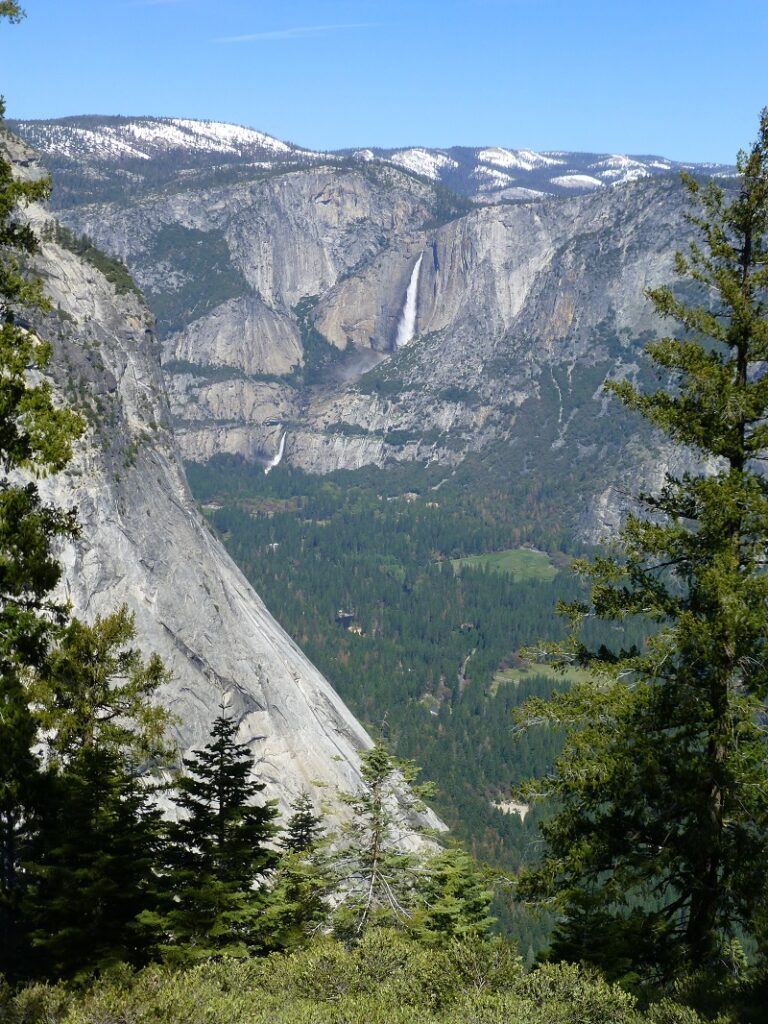 The Merced River spills over Vernal Fall for 317 feet.
We continued on the trail, passing by small waterfalls and crossing some wet areas of the trail along the way.
We reached Nevada Fall, which is also fed by the Merced River, and has a drop of 594 feet.
We spotted our first snow plant of the year along the trail.
On our way back to Glacier Point, the sun was behind us, offering nice picture taking opportunities of that classic view of Half Dome with Vernal and Nevada Falls.
We didn't have as much snow on the trail as I thought we would. We probably had about 3 patches that covered the trail, easily walked though. But the snow at Glacier Point parking lot was fairly impressive. I made Gail pose to give you a rough idea.
Map and Profile
Sources:
Browning, Peter, Yosemite Place Names: The Historic Background of Geographic Names in Yosemite National Park, Great West Books, 2005
Illilouette Falls World of Waterfalls
Prior Blogs in this Area: